Aslan Leather Pink candy jaguar collar - Collar from Aslan Leather

Pink candy jaguar collar videos
Product Details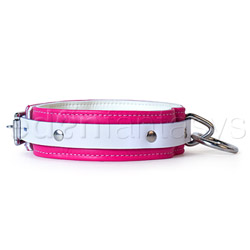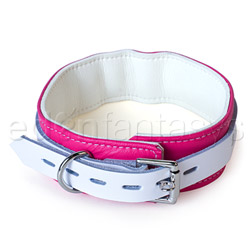 Summary:
This is a beautiful collar from Aslan Leather that exudes the quality craftsmanship that they are know for. It looks great as well as proves to be amazingly functional as well. The collar does not irritate you, even after extended wear. It also has an O-ring to use with a leash and has a lockable hasp for those who want a little more control of their subs. I am always amazed by the thought and time that is put into their products and this proves to be another fine example of that.
Pros:
Beautiful, quality made, soft & supple leather.
Best use:
If you like Aslan Leather products, collars, pink or quality products, you will love this Pink Candy Jaguar Collar. It never ceases to amaze me the thought and craftsmanship that Aslan puts into its products. This collar is no different, made of soft leather that is comfortable to wear and beautiful to look at. This adjustable collar also has the option of being locked on the wearer for those liking a little more control.
Design / Craftsmanship / Material / Size / Fit:

The leather that this is made from is a soft, supple leather that will fit snug and firm against your skin without causing undue irritation. It is pliable enough to conform to your neck and not chafe your skin except during the most extreme play.

It is put together with 2 strips that are 1/8" think each, 1 1/2" wide and 16" long. The underside is a piece of white leather with a pink piece sewn on top of it, making it durable enough to wear anytime, anywhere. On top of that is a smaller white strip measuring 1/8" thick, 3/4" wide and 19 1/2" long.

The top piece is attached with 7 metal rivets, holding your buckle, a small D-ring to tuck extra leather into after securing the buckle and a triangular piece holding a 1 1/2" wide metal O-ring for attaching a leash.



The collar can be adjusted with 6 buckle holes that are 3/4" apart making it where it will fit necks from 12" to 17" comfortably.



On the buckle is a hook that will also accommodate a small lock, allowing you to keep your partner close at hand.. This is not included, but you can pick one up almost anywhere. Some people like me have a few laying around just for circumstances like this.



Material:

Leather

Material safety

Color:

Pink / White

Length:

20"

Width:

1 1/2"

Closure:

Buckle

Weight:

0.2 lb

Performance:

One of the things that I love about Aslan Leather is just how comfortable their products are to wear for extended periods of time.

I have had this on a few times for at least an hour or two and it is very comfortable to wear and has caused no irritation on its own. There have been marks but it is of no fault of the collar itself.

The stitching is done with great care and I think that this product will last a lifetime if taken care of correctly.

Care and Maintenance:

As with all leather products, you must use care when cleaning. You can wipe it down with a damp cloth and mild cleaner, allowing it to dry completely before storing. I choose to use leather wipes to clean all of my leather products as it protects them as well as cleans them. Always store leather in a cool, dry place to avoid causing any damage.

The packaging is minimal, just a plastic bag. There is a small tag attached to the collar with basic care instructions.

Experience:

Wearing this collar is fantastic. It will allow your master to lead you around either gently or quite forcefully without fear of the seams or stitching tearing. The quality of it makes outside wear possible as well, as it is truly a beautiful piece.

Other

Size:

One size fits most

Lining:

Leather

Fits up to:

15"

Safety features:

Phthalates free