Aslan Leather Pink candy Minx - Double strap harness from Aslan Leather

Product Details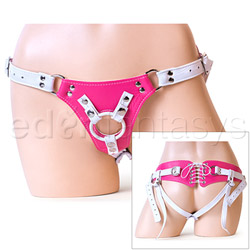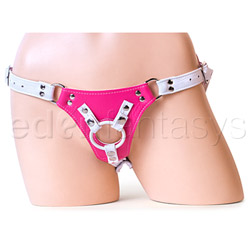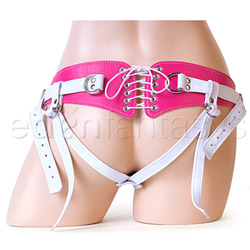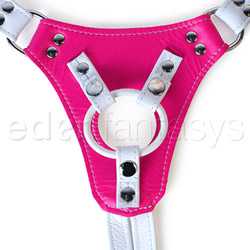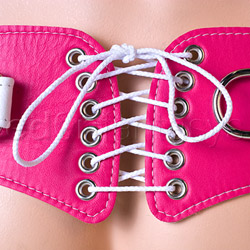 Summary:
This harness was designed with every user in mind. It is not only the most beautiful harness that I have seen, but it is made with superior craftsmanship. The leather is soft, supple and extremely comfortable to the wearer. It is adjustable in every aspect, making it suitable for all users, male or female, and will fit almost everyone.

This harness is suitable for pegging, women, gender play, or men to wear, adding not only quality but beauty to your bedroom experience.
Pros:
High quality, comfortable, beautiful.
Cons:
Expensive, but worth every penny.
Best use:
The Pink Candy Minx from Aslan Leathers is an adjustable harness made of top-quality, soft, supple leather to enhance play for everyone involved. It can be used for pegging, lesbians, cross-dressing, or gender play. It is designed with enough variety in sizing and options to be thoroughly enjoyed by all.

The craftsmanship that is put into this luxurious harness makes it well work the price for anyone who truly desires a harness that will last and perform.
Material:

The leather that this harness is made from is one of the best examples I have come across for quality. It is soft and supple, allowing it to sit comfortably on your hips without chaffing. It molds to your body in a way that only good leather can, causing no discomfort. It is mostly 1/8" thick leather pieces that are stitched together with a craftsmanship that will be appreciated by all users.

It has a new leather smell that is present, but not overwhelming. Leather is not waterproof, so take care not to submerge it in any kind of liquid.

Material:

Leather

Material safety

Design / Craftsmanship:

This is a beautiful dark pink and white harness that is corset style in the back with an adjustable nylon string that laces through 12 metal eyelets. This allows for approximately 6 additional inches to the overall size when necessary. It also makes it very sophisticated looking adding some extra flair to the back of the harness.



It sits low on your hips, with a triangular piece of leather that houses the dildo. It is a three point harness that snaps around a 2" O-ring. It also has an opening in the leather itself that is 1 3/4" to accommodate dildos that have testicles attached and won't snap into the O-ring.



The leather straps that are attached with D-rings to the front and connecting to the back corset piece are adjustable with a metal buckle that has 15 holes spaced 3/4" apart. This allows the harness to fit someone with hips ranging from approximately 28" to 50". This is not including the extra 6" that can be adjusted with the corset.



In the back on each side are two small D-rings that allow you to adjust the leg straps. These straps are 21" long each coming from the bottom of the crotch, allowing you to adjust the snugness of the straps between your legs to a comfortable size.



There are also 2 D-rings, one on either side of the corset, that I am assuming are for attaching a leash or something of that nature.

Size / Fit:

This harness is adjustable in every aspect and will fit a wide variety of users. My hips are 36" and there is plenty of room to go either way in size.

There is a removable crotch piece that slides to adjust for comfort. Male wearers could also remove this piece to allow for wearing.



This harness is designed with functions to make it adjustable and comfortable for almost any user.

Maximum hip size:

60"

Maximum waist size:

One size fits the most

Dildo holder diameter:

2"

Weight:

0.75 lb

Performance:

This is one of the most comfortable pieces of leather I have worn on my body, and trust me when I say there has been a lot of leather close to my skin.

Once you get the adjustments right on it the first time, you can then take it off and put it on with very little effort. After your first use, you can simple unbuckle one side and step out of it, doing the same to put it back on.

The snaps on the O-ring are firmly placed keeping the dildo snug in place, without allowing it to slide around.

I wore this for almost 2 hours bouncing around and had no chafing at all, even when getting a little sweaty. The softness of the leather allows you to change positions easily without any pinching or other discomforts that hard leather does.

Special Features:

Interchangeable ring
Premium

Care and Maintenance:

For cleaning leather you should just use a moist cloth or wipe, taking care to dry it completely before storing it in a dark, dry place. Do not submerge in liquid as it will crack and dry or mold.

Personally, I always use conditioning leather wipes that I get a local motorcycle dealership as that is what they are designed to do.

Packaging:

It comes in a plastic zippered bag with just a tag with basic care instructions. It is buckled together so you can visually see how to wear it.

Other

Texture:

Smooth

Safety features:

Phthalates free