Bijoux Indiscrets Plaisir nacre black pearl cuffs - Wrist cuffs from Bijoux Indiscrets

Plaisir nacre black pearl cuffs videos
Product Details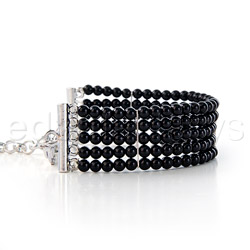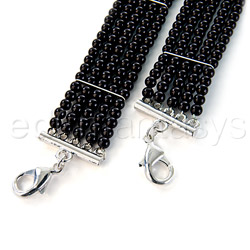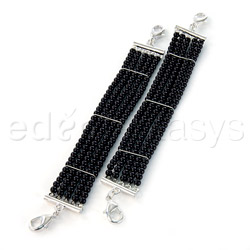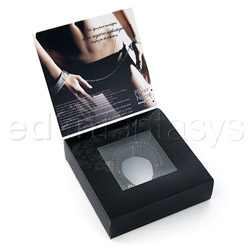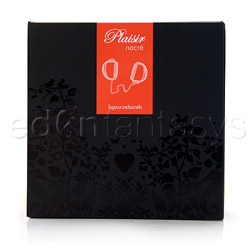 Summary:
The Plaisir Nacre black pearl cuffs give an added hotness to any sexy outfit you want to wear for your partner. Though they're not meant for true bondage usage, they do add a bit of edginess to whatever look you're going for. Each cuff can also be worn alone as a bracelet in public.
Pros:
Well made, sexy looking, somewhat adjustable.
Cons:
Made for smaller wrists, not meant for rough play.
Best use:
The Plaisir Nacre black pearl cuffs are all about the look. There is nothing hard-core bondage about these, and they will not hold up to rough play. They're actually more like edgy, sexy looking accessories. But as accessories, they excel. You can wear them to add a bit of bling to a complete outfit for a specific look, or allow them to make their own statement and wear them just by themselves. Whatever way you choose to wear these, you're sure to get compliments on how hot they look.

These also can be worn, without the chain, in public as jewelry.
Design / Craftsmanship / Material / Size / Fit:

Each cuff consists of 5 rows of very small black beads. They are attached to a rounded silver bar on each end. There are 3 thin silver bars threaded through and spaced out to help keep all the pearls in place. The cuffs themselves are 5 1/2 inches long. There is a silver clasp on each end making them 7 inches all total.

The clasps are a decent size and have an easy to use lever on the back to open them. There is also a 7 1/2 inch chain, with small rounded links, for attaching the cuffs to each other. I especially liked how the silver looked on this. It is a whiter shade of silver, similar to platinum.

The sizing on this is a bit small. If you were to wear these alone as jewelry, you would need to have smaller wrists. My wrists are only 5 3/4 inches and they fit me. But I don't think they would fit someone who's wrists are much larger than mine. As cuffs though, these can be adjusted by clasping one end further down the chain.

These cuffs are very well made, and sturdy as far as costume jewelry goes. And so long as you're not too rough with them, they should last for a very long time.

Material:

Metal

Material safety

Color:

Black / Silver

Length:

5 1/2"

Width:

3/4"

Weight:

0.3 lb

Performance:

As I said before, these are extremely well made. They make a great accessory for added bling to a sexy outfit. They're the perfect combination of classy, sexy and edgy. And each cuff can be worn, out in public, as a regular costume jewelry bracelet.

Care and Maintenance:

There really were no care instructions for these cuffs. But considering it is costume jewelry, I would suggest being very careful with how you take care of them. I would not recommend getting lotions or oils on them, because it could possibly damage the finish. But if you should need to clean them, I would suggest washing carefully with warm water and mild soap, then drying them immediately and thoroughly.

The black pearl cuffs can be stored with your other accessories or jewelry. Or they can be stored in the very nice, reusable packaging that it comes in.

Personal comments:

From the moment I saw these, I really liked them. I wanted a little extra something to add to my collection of outfits to wear for my hubby. I did realize, even before I got them, that they were not meant to be used as bondage cuffs, but were more about the "look".

I combined them with this little skirt set, a black and silver collar, and black heels. My husband loved it! He said the accessories really added to the overall hotness of the outfit.

And considering so many of my sexy outfits and lingerie are black, I'm sure I will use them quite often.

Other

Texture:

Beaded

Safety features:

Food-grade material / Latex free / Non-porous / Phthalates free