Outlaw Leather Pretty boi - Double strap harness from Outlaw Leather

Product Details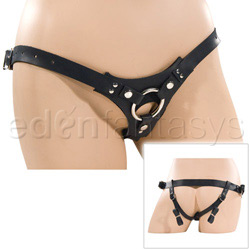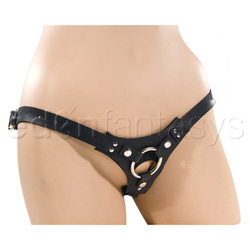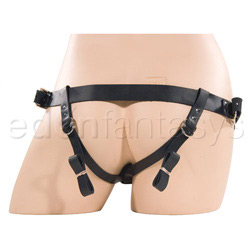 Summary:
If you are already experienced in pegging and are not worried about the cost of this harness, or not looking for a beginner set, then I would suggest this one. It is one of the better quality harnesses on the site.
Pros:
high quality, fits a wide range of waists and dildos
Best use:
This harness works well for any woman looking to peg her man, gender play, or strap on sex. It works well with any flared base dildo. Unlike the kits being sold with a harness and dildos, you are just paying for a quality harness. Just insert your favorite flared base dildo or even a dildo with balls. It is a basic two strap design, kind of like crotchless panties, making it easier for mutual stimulation (there is nothing worse than only one partner getting pleasured at a time). There's also a second hole on the inside that is located even lower than the front hole. This perfect alignment makes it ideal for a second dildo that the wearer can use.
Material:

This simple, high quality leather harness looks beautiful with the chrome snaps and buckles. It is soft and flexible. The leather is about 1/16th of an inch thick. The straps are held on with chrome plated buttons. The straps are adjustable with belt like buckles, also chrome plated. We have had this harness for a couple of years, and the leather still looks brand new. If you are looking for something vegan, this harness is not the one.

Material:

Leather

Material safety

Design / Craftsmanship:

Like stated above, this is a double strap harness. The straps go from the front of the harness around the hips on the top. And for the bottom, they go from your crotch around the inside of your inner thighs and up your butt on the sides. It is not a single strap like a g-string. This design leaves her goodies open up to be played with, or her own dildo inserted. The o-rings are changeable, so you can have the right sized o-ring for the dildo of your choice. We have used o-rings from just under 2 inch outside diameter to just over 2 1/2 inch outside diameter. It has been compatible with just about every single-ended dildo we have.

Size / Fit:

The product page states this will fit up to a maximum waist size of 52 inches. My wife has about a 30 inch waist, and it fits very well with a lot of left over strap. If you do not like the look of extra strap hanging from your harness, the extra can be cut off pretty easily. Overall it fits pretty well. It is not too tight, and you don't get a lot of sagging from the dildo in the front.

Maximum waist size:

54"

Dildo holder diameter:

1 3/4" / 2"

Weight:

0.5 lb

Performance:

This harness has worked very well for our pegging. It has held up to the play and the cleaning up afterwards. It has worked with our dildos. The only problem we have had is that it does not work well with double ended dildos. The hole is a little too high for enjoyable insertion for the wife. That alone does not take away from the quality or usefulness of this harness. It is easy to put on, comfortable to wear, and easy to clean.

Special Features:

Interchangeable ring
Rings set included

Care and Maintenance:

This is a pretty easy harness to keep clean. We just wipe it down with some baby wipes, pat it dry with a towel and then hang it up in the closet. In over two years of use, I have not seen any cracks in the leather or any broken buckles or snaps.

Other

Texture:

Velvety

Safety features:

Phthalates free