Spartacus Purple fur line wrist restraints - Wrist cuffs from Spartacus

Purple fur line wrist restraints videos
Product Details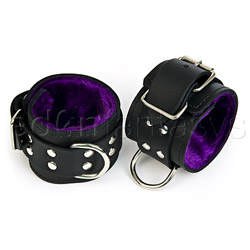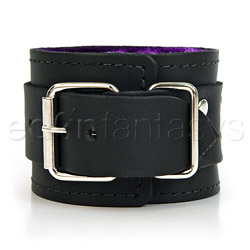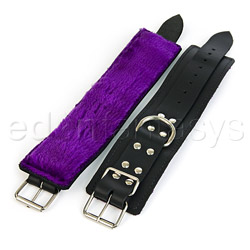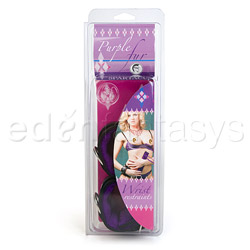 Summary:
Everyone should have something covered with purple fur in their bedroom, and the touch of fun it adds to these wrist restraints makes this a perfect place to start. The flexibility and comfort of the design make these perfect for those new to bdsm play. The sturdiness of the hardware and durability of the leather mean that advanced bdsm practitioners will also find something to enjoy.
Pros:
Comfortable purple fur padding, sturdy attachments.
Cons:
Sizing runs on the small side.
Best use:
These cuffs are designed to restrain the wrists as part of bdsm play. With the large D-ring users can attach the cuffs to each other, a hook on the wall, or to any other object that would also serve as a suitable attachment point.

The purple fur adds considerable comfort to the cuffs, making them appropriate for both experienced and inexperienced users. While the leather and hardware is certainly durable, these wrist cuffs do not seem to be sturdy enough for any sort of suspension play.
Design / Craftsmanship / Material / Size / Fit:

There's only so much design creativity that can go into a pair of wrist cuffs. Where the wheat is often separated from the chaff comes with the attention to details and the quality of the craftsmanship. Sparatcus's wrist restraints do well in both respects.

A large band of soft, pliable leather forms the base of each cuff. One side of the band is smooth leather and the other side is plush, purple faux fur. As one would expect, there is some shedding from the purple fur, but it's minimal and something that would disappear entirely after a few uses.

A thinned band of leather provides the means by which the cuff is closed. This thin band is attached to the wider band with a series of rivets. A large D-ring serves as the attachment point. The hardware for closing the cuffs is made of solid metal. Holes along the thin band allow for a range of wrist sizes to be accommodated.

With respect to sizing, this particular pair of cuffs is best geared towards smaller wrist sizes. I happen to come from a long line of sturdy peasant women and my 7" wrists reflect that. The wrist cuffs fit perfectly, but only attached at the very last hole. Sizing was a close call this time around and it makes clear that these cuffs would not fit many larger people. Average users should have no concerns in this respect, but it does make sense to double-check before choosing to get these cuffs. If your wrists are less than 7" in circumference, go right ahead. If they're wider, you might be better off looking for a different pair.

The leather and hardware easily withstood all the straining and pulling that I could provide. The attachment points are strong and the leather is durable. The fur padding should wear down and become more consolidated over time.

Material:

Faux fur

/

Leather

Material safety

Color:

Black / Purple

Length:

8 3/4"

Closure:

Buckle

Hook style:

D-ring

Weight:

0.4 lb

Performance:

These wrists cuffs performed exactly as they were designed to. I writhed and pulled and tugged and through it all, the cuffs stayed firmly attached to my wrists and my bedposts. The purple fur provided excellent padding and there was no chaffing or discomfort for my wrists.

The fur and the inability to get a tighter fit did make the cuffs shift around my wrists. I actually saw that as a bonus as it allowed for additional comfort and some flexibility when changing positions.

Other

Lining:

Faux fur

Safety features:

Phthalates free