Sportsheets Rouge blindfold - Blindfold from Sportsheets

Product Details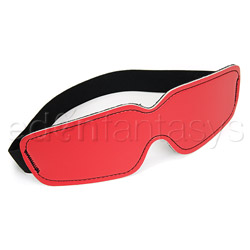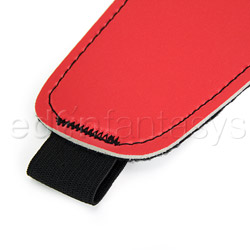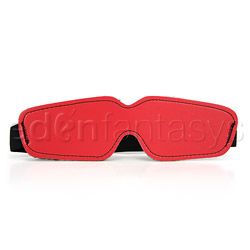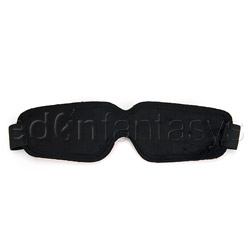 Summary:
The Rouge Blindfold by Sportsheets is a good, basic addition to anyone's BDSM toy box. It's made of faux leather, so vegans need not worry. This bright red blindfold should fit most heads thanks to its elastic band, and is comfortable to wear thanks to its soft fabric lining. However, those with higher nose bridges may experience discomfort using this blindfold, as it may bite into the nose bridge.
Pros:
Comfortable lining, sturdy construction, works well as a blindfold.
Cons:
May cut into nose bridge, depending on shape of nose.
Best use:
The Rouge Blindfold is a basic staple of any collection of BDSM equipment. It's not fancy, but it is well made, and can be enjoyed by beginners and advanced users alike. Its use of faux leather also makes it a great choice for vegans.
Design / Craftsmanship / Material / Size / Fit:

The Rouge Blindfold is well made. Strong, sturdy black stitches attach the elastic band to either side of the blindfold, with no loose threads dangling, as is the case with some lower-quality blindfolds. The faux leather material seems flexible and durable. The outside of the blindfold is smooth, bright red, while the inside is lined with soft black material, most likely nylon.

Upon first use, the blindfold fit the circumference of our heads well, but both my boyfriend and I felt a bit of pressure on the outside corners of our eyes. It was marginally uncomfortable, but the sensation went away after a few minutes after the blindfold adjusted to the shape of our heads. The elastic band is stretchy enough to fit most head sizes without being too loose on users with smaller head circumferences.

The shape of the blindfold is not quite one-size-fits-all. While I felt comfortable wearing the blindfold for long periods of time, my boyfriend took his off as soon as he was allowed because the blindfold was cutting into the bridge of his nose. It should be noted that I have a very low nose bridge while his is more pronounced but is still considered average in terms of typical Caucasian facial structure. He did not experience pain so much as nagging discomfort, and after taking the blindfold off, the red mark on his nose faded after approximately ten minutes. There was no such mark on mine.

Material:

Faux-leather

Color:

Red

Length:

9"

Weight:

0.2 lb

Performance:

The blindfold performed its primary duty very well. It fit closely to the face and blocked out all light. As my boyfriend summarized, "I put on and I could not see. Success."

When taking off the blindfold, be warned that if the room is lit, it will most likely be blinding. To spare yourself the agony of bright light in your dark-accustomed eyes, keep your eyes closed when you take off the blindfold and let yourself adjust. That is, of course, unless being temporarily blinded by light is what you or your partner is aiming for. Either way, it's a sure sign that the blindfold works well at its signature application.

As I mentioned before, the blindfold should fit most head sizes and the lining makes it comfortable to wear. However, we did find issue with the shape of the nose indent.

Care and Maintenance:

To clean this blindfold, simply wipe it down with warm water and detergent-free, mild soap. Soft-bristled brushes work well, too, to remove dirt.

Experience:

When trying out this blindfold, my boyfriend and I devised a game. I was blindfolded and bound to the bed with Sportsheets cuffs and tethers. He would rummage through the toy drawer and bring mystery toys to me. He'd run the toy along my exposed body without letting me touch it with my hands. If it vibrated, he would turn it on and let me listen to it or hold it against my stomach so I could feel it. If I could guess what the toy was, he would use it on me. All in all, a fun game. We don't usually do much with blindfolds other than the typical feather-and-knives sensory play. Turning it into a guessing game made it much more interactive, and the blindfold worked very well--I couldn't see a thing.

Other

Size:

One size fits most

Safety features:

Phthalates free