Sportsheets Rouge tethers & leash set - Leash from Sportsheets

Product Details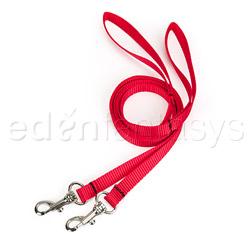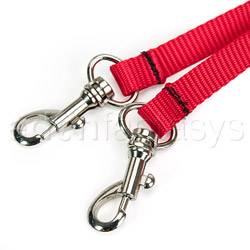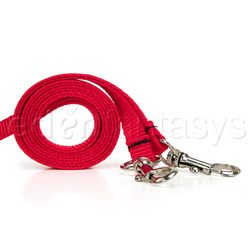 Summary:
The Rouge Leash set from Sportsheets is a set of durable and useful leashes. The color is vibrant, and the set of two provides many options for leashing your partner. The leashes can be used singly, and also together as restraints. The snap hook is large enough to hold two D-rings at once to bind cuffed hands together either in front or behind. These leashes are durable and easy to clean, and should hold up well under frequent use.
Pros:
Bright red color, inexpensive, matching set, swivel snap hook, adequate length.
Best use:
The Rouge Leash is actually a set of 2 identical leashes. They can be used for leading your captive by snapping them onto the O-ring or D-ring of a collar or cuffs. Depending on the size of the cuff rings, one leash can be snapped onto both rings to keep the hands held together in front or in back of the body. The leash ends can also be looped over bedposts to restrain cuffed wrists or ankles.
Design / Craftsmanship / Material / Size / Fit:

The leashes are simply designed. Each leash is bright red with black stitching at the ends. One end is looped to hold a swiveling slide-open silver snap hook, and the other is looped and stitched shut to form a 6" opening for a hand and wrist to be inserted.

Each leash is 38" long, from the end of the snap hook to the end of the wrist loop. The leashes are 1/2" wide, and are lightweight.

These leashes are made of nylon. This is a good material for BDSM play: it holds up well under flexing and twisting, and doesn't tear or bend out of shape.

Material:

Neoprene

Color:

Red

Length:

38"

Width:

1/2"

Closure:

Swivel clip

Weight:

0.2 lb

Performance:

These leashes work as expected. Whether using one as a collar lead or a hands tether, they are easy to attach, do not come off, and do not tangle. The snap hook is too small for some of the cuff rings to be double-hooked, but worked well with most others with average-sized rings.

The leashes can also double for regular leashes.

Care and Maintenance:

Nylon is easy to care for. Dirt does not penetrate the material, and the leashes can be wiped with water on a damp cloth. A mild soap can be used if necessary. Silicone and water-based lubricants will not cause damage to the material.

The leashes can be stored either hung from a hook or coiled gently in a drawer. They are discreet, and can easily be mistaken for dog leashes (providing you have a dog, of course).

Packaging:

The packaging for this product is minimal. The leases come attached by plastic staples to a cardboard back.

The packaging is printed on recycled paper, and states it's "cruelty free", in reference to the leashes being made from a synthetic material and not an animal product.

Personal comments:

The color of the Rouge leashes is fast and doesn't bleed when dampened for cleaning.

Lubricant is easy to wash from the surface.

Experience:

I really like red, especially for bondage play. Black is nice, but there's something about red that really gets my partner going. I have a nice red Aslan set (collar, cuffs, and gag), and these complemented that nicely. Getting two leashes in the package was a bonus, as it allowed us to be more creative with them.

The snap hooks fit both the single O-ring and D-ring of my collar and cuffs, and they also held both D-rings of the cuffs at the same time with no problem. This allowed my husband to attach one to the collar for traditional play, as well as hold my cuffed wrists together both in front and in back of me. We found them to hold up well to tugging and struggling with no damage, stretching, or twisting out of shape, even when we used these on our bedposts.

While these can be stored out in the open, be prepared for what may happen! My dogs were exuberant when they saw new leashes and eyed them when I hung them on the downstairs coat hooks. I figured they wouldn't be able to get them down (and I was right), but my children saw them and figured they were for the dogs and happily hooked up their collars to take them for walks!

They have since been stored locked away with our other BDSM toys.