Sportsheets Rouge wrist cuffs - Wrist cuffs from Sportsheets

Product Details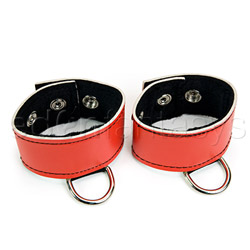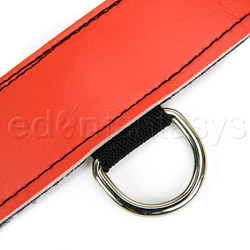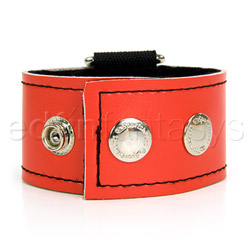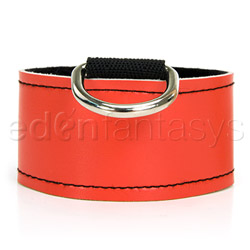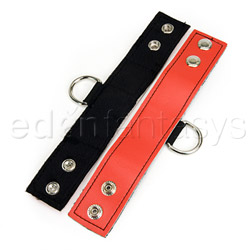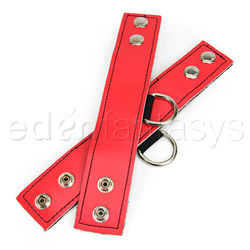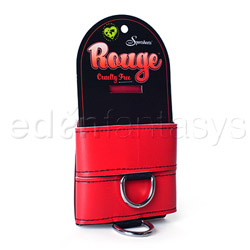 Summary:
If you want to play with the Big Bad Wolf, you may need to find something a little better made. These are great, however, for light bedroom bondage play and accessorizing a fetish outfit.
Pros:
Quality isn't too bad as far as stitching and the color is awesome if you like a vibrant red.
Cons:
Not safe for serious edgier BDSM play. The edges of the cuffs are quite hard and will chafe.
Best use:
These are cute little cuffs which are great for light roleplay in the bedroom. They are not what I would use for BDSM play as they don't have the extra padding and width typical play cuffs have for more physical, strenuous type play. They are however, an awesome accessory for a fetish outfit and are a bright fire engine red in color.
Design / Craftsmanship / Material / Size / Fit:

These are not leather but a vinyl made cuff of some sort. They consist of basically a strip of vinyl sewn with a strip of fine fluffy inner lining and a D-ring stitched into the side of the cuff. They sport two strong larger sized domes which can be fastened on just the one or the two domes. I had doubts about how well they would hold but they hold up to some fierce tugging. The actual vinyl is not covered on the edge of the cuff and as new it's quite hard material and, when tested, the edge leaves a little chaffing on the skin. These may soften over time with extended use. I have really small wrists, and after wearing these, they fit really snuggly around my wrists. They have two domes and I had them secured with both domes, about a 50mm circumference. Done up on the second dome, only they give a 60mm circumference so if you have bigger wrists these may not fit well at all.

Material:

Faux-leather

Color:

Red

Length:

9 1/2"

Width:

1 1/2"

Closure:

Snaps

Hook style:

D-ring

Weight:

0.2 lb

Performance:

These are repeat ... not suited for more heavier BDSM play, they need to be a little wider and more well padded to be safe in that aspect but perfectly fun for light bedroom play, one can tie the D rings together or thread some bondage rope through them and tie one down to the bed. I found these to be an awesome clothing accessory to a recent fetnight where I needed a little extra on an outfit. If you have teenagers who like wearing cuffs as a clothing accessory, these are very cool.

Care and Maintenance:

Store these cuffs undone and laid flat somewhere safe, even better in a toy case or a pouch. The material inside the cuffs will absorb sweat and body fluids easily and are something I would not share with others. They are what I deem difficult to clean. The outside can be wiped down with sterile wipes, toy cleaner or a 10% bleach solution. The inside, if soiled, will need to be cleaned with hot, soapy water and then dried well before storing.

Packaging:

The cuffs arrived wrapped around a thin black piece of card with 'Rouge' printed along the top above the cuffs, no plastic coating on the outside. The information was pretty much nonexistent including no care instructions available. The package does say these cuffs are an Adult Novelty Toy only, so I would most definitely agree there.

Personal comments:

These are cute, and if you don't like leather products, then this is a cute wee alternative option; but if you're wanting a set of cuffs for real BDSM play then keep hunting - these are not it. If you are wanting some fun sex toy party presents, a gift idea for pure cheekiness or an accessory to kink up an outfit, then these are great. Personally, I have very little use for them except as funky wrist bracelets.

Other

Size:

One size fits most

Texture:

Velvety

Safety features:

Phthalates free