Sportsheets Sex and Mischief adjustable handcuffs - Handcuffs from Sportsheets

Sex and Mischief adjustable handcuffs videos
Product Details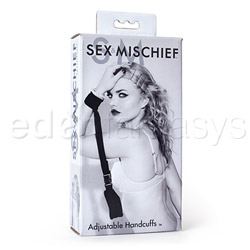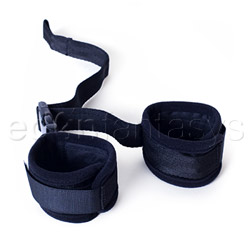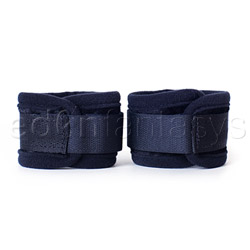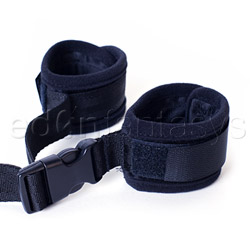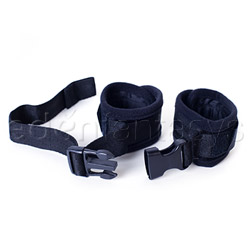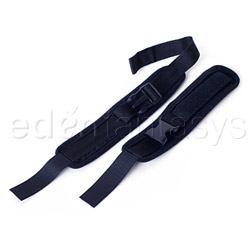 Summary:
These are the perfect beginner bondage cuffs, sturdy but not inescapable, comfortable and non-threatening. If you're looking to poke a toe into bondage, these are the cuffs for you.
Pros:
Well made, nonthreatening, easy to use, comfortable.
Cons:
Less than beautiful, not for heavy bondage.
Best use:
These are a really great pair of first time cuffs, they're comfortable, not too escapable, not uncomfortable, easy to use and generally well made for the price point. In other words if you're looking for a first bondage experience this toy is exactly right for you. With their non-threatening design, comfortable cloth interior and quick release Velcro they're a pretty much fool proof way to enjoy your first bondage scene. They're strong enough to stand up to struggling, but also escapable so that your lover needn't fear if they encounter a moment of claustrophobia unexpectedly. While not for heavy/experienced bondage players these really are the best beginner cuffs I've tried.
Design / Craftsmanship / Material / Size / Fit:

These cuffs have soft nylon interiors that feel almost like a cross between velvet and flannel with sturdy nylon cord on the exterior. They are held together with a sturdy plastic buckle and fasten with Velcro. They will fit a wide variety of wrists very well from my tiny tiny ones to big manly ones.

They are again, quite sturdy and held up well against my valiant struggling, of course as they are handcuff style restraints all you really have to do is reach over and pull up the Velcro strip on the other cuff to get free (as your hands will be close together) but this is nice in a beginner bondage cuff as it allows for the idea of helplessness (standing up to struggling) without actually making the subject helpless.

The only quibble is that these are less than beautiful, looking more like a piece of camping gear than a sex toy.

Material:

Nylon

/

Plastic

/

Polyester

Material safety

Color:

Black

Length:

24"

Width:

1 3/4"

Closure:

Buckle / Velcro

Weight:

0.1 lb

Performance:

These performed admirably: they are sturdy, well designed and well made. They can take a LOT (and I do mean a LOT) of struggling, and remain secure and comfortable. They will chafe delicate skin a bit if you struggle a lot, but most materials do. They're soft and easy to escape but not flimsy, making them non-threatening and sturdy (sturdiness is a trait unfortunately lacking in many lighter bondage cuffs).

All in all, they're admirable beginner/light bondage cuffs.

Care and Maintenance:

Hand wash and don't put them in the dryer or you'll melt the plastic.

Packaging:

These come in a plastic bag in a cardboard box with minimal instructions, however they really don't need much in the way of instructions.

Other

Lining:

Faux fur

Fits up to:

Any size

Safety features:

Food-grade material / Hypo-allergenic / Latex free / Phthalates free