Sportsheets Sex and Mischief bondage tape - Restraints from Sportsheets

Sex and Mischief bondage tape videos
Product Details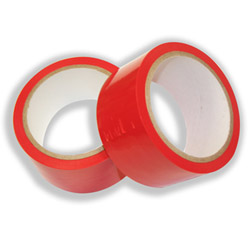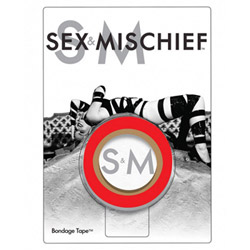 Summary:
There is nothing better than trying out a toy that introduces you to a whole new path for playing. This simple roll of clingy red tape is a perfect introduction for those who want to try out bondage and submission play. You will feel restrained, but not intimidated, and it could be the start of a whole new routine in the bedroom (or the living room or kitchen).
Pros:
Strong, red, great intro to bondage.
Cons:
Will stretch and narrow if too much force is applied against it.
Design / Craftsmanship / Material / Size / Fit:

The tape is about two inches wide. It's best to cut it with scissors to avoid scrunching it up too much before putting it on. It's PVC, so it's strong. It is also red, so it is visually stimulating against bare skin. There is a very slight plasticy type smell, but it is nothing that you will really notice. The width is great for wrapping around wrists and ankles. It is best for securing limbs to things like bedposts or other objects.

Material:

Pvc

Material safety

Length:

30'

Width:

2"

Weight:

0.5 lb

Performance:

The point of this tape is not to make it impossible to get out. So, don't try to subject the tape to extensive pulls and lots of force because you will eventually break it. And, before you break it, you will stretch it out into a narrow band that will start to feel uncomfortable against your skin (unless you are into that, which you might just be). The point is to submit to the restraint. Tying the body part so that movement is limited is best. If you want to use it for something like tying the legs open (like in a sling), it is possible, but you have to be careful about how much weight you put directly against the tape. For holding positions like that, use the tape as a guide, but don't let your partner apply his or her full weight against the tape.

Care and Maintenance:

The tape does stretch out with use, so you will get the best performance from using a fresh strip every time you play. You definitely have enough for a few sessions, and it is easy enough to get another roll if you want. So, there isn't much in terms of care and maintenance to worry about. Keep the roll itself in a dry place and out of direct sunlight. It will easily fit into your toy drawer or in your nightstand.

Packaging:

The packaging is very simple and it is clear so you see the red roll of tape fully. You can keep the packaging to store the roll, but you will probably find it easier (and a bit space saving) to just lose the packaging.

Personal comments:

For those who like metal or leather restraints, this may not fit the bill, but I liked the minimal nature of the restraint (this little roll of red clingy tape) combined with its strength. I also liked the red color. Not having a lot of experience with bondage, this was a fun way to give it a whirl. The tape holds up during play, and when you are done, you just toss it and save the rest of the roll for the next time.