Sportsheets Sex and Mischief door play cuffs - Handcuffs from Sportsheets

Sex and Mischief door play cuffs videos
Product Details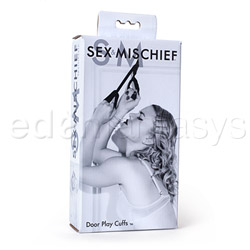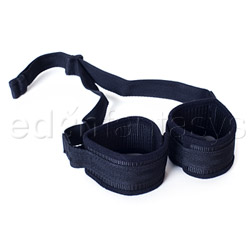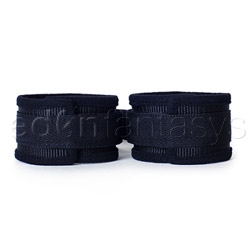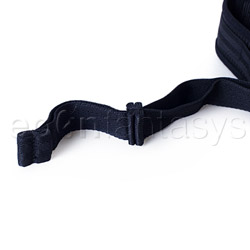 Summary:
The Door Play Cuffs by Sportsheets add a lot of spice to otherwise boring sex. Spruce up a quickie by throwing the cuffs over a door and strapping your lover up. The Door Play Cuffs are comfortable to wear, have adjustable wrist cuffs, and are easy to care for.
Pros:
Comfortable, adjustable wrist cuffs, easy to clean, easy use, no installation required.
Cons:
Strap does not adjust, you may need a stool if you are short.
Best use:
Sportsheets is in the business of making everyday sex better and better. Whether it is a five minute quickie, an adventure in the water, or something a little more dark... Sportsheets has come up with a solution to make sex great sex! A new item in their line is the Sex & Mischief line that includes the Door Play Cuffs. The cuffs are sturdy and have an easy on and off closure. They instantly fit over any door without any installation. The Door Play Cuffs can be used for couples of any sex that want to add a little tie-up action to their game. They are safe and easy to use and very comfortable.
Design / Craftsmanship / Material / Size / Fit:

The Door Play Cuffs are made of Polypropylene webbing, Velcro, polyester binding, and polyester velboa fabric. They are designed for door play. The cuffs are bound by strong webbing that divides up and ends with a loop at the end for hanging on a door. When I have used the cuffs, I used a door hook and hung the loop on that. It is very sturdy and I have not encountered any problems with use. They are well-made and will probably last through a good amount of uses. I assume that they will wear eventually, because they are not made of something sturdier, like leather, but no evidence of any wearing yet.

The material on the inner side of the cuff is comfortable to wear. I haven't experienced any skin tears or bruising. They are also very easy to put on and take off. The Door Play Cuffs can be used to add a little restraint to sex, but they are not heavy play. The cuffs are adjustable to wrist size. They can be adjusted from 15" to 20". In regards to size, I think they are suitable for most individuals.

They are not any special features to the Door Play Cuffs. They are simple and do the job intended. They are comfortable wear and make good for adding a little fun, or binding to sex.

Material:

Polyester

Color:

Black

Length:

20"

Width:

2"

Closure:

Velcro

Weight:

0.1 lb

Performance:

The Door Play Cuffs performed very well. They are very simple. I placed them on a door hook and they were then placed on my wrists. They only downside to these is that the length of the strap can not be adjusted. Depending on your door height and how tall your are, you may need a stool to stand on. My arm length was enough to reach the length of the bind. I stood comfortably against the door and hand my arms stretched up above my head. It allowed for fun rear-entry sex, as well as missionary while having my legs wrapped around his waist against the door. The Door Play Cuffs were a great addition to put a little more fun into our sex life. They are not for heavy play, but they add some restraint to sex. They are also great for experimenting with having sex against a door. We really enjoyed them and would recommend them to all couples of any sex.

Care and Maintenance:

The cuffs can be stored basically anywhere you like. They do have Velcro, so I wouldn't place them where they will collect a lot of lint. If you happen to get them messy, I would rinse them off and let them air dry, or just use a wet wash cloth on them. Do not place in the washer or dryer.

Packaging:

The Door Play Cuffs come in a cardboard box with product description on the packaging. The box can be recycled or used to store the cuffs in.

Other

Lining:

Faux fur

Fits up to:

Any size