Sportsheets Sex and Mischief door play kit - Restraints from Sportsheets

Sex and Mischief door play kit videos
Product Details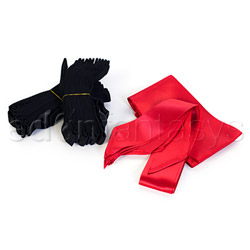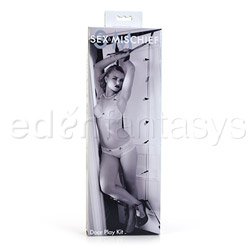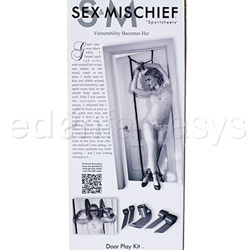 Summary:
This creative light bondage kit is a marvelous way to spice up the bedroom or restrain that naughty sub who's oh-so-willing to get a whipping from you. Silky red sashes will encircle the ankles, wrists, and head as your victim struggles against the straps securing them to your dungeon door. A well-made kit with beauty and function combined, Sex and Mischief brings us another quality BDSM kit.
Pros:
Versatile, sturdy, silky, sexy ties, unique.
Cons:
Door straps have chemical smell.
Best use:
A versatile bondage kit, Sex and Mischief is Sportsheets' gift to BDSM players of all experience levels. With Vulnerability Becomes her, an all-inclusive light bondage kit, Sportsheets offers a silky blindfold, wrist and ankle restraints, all in red satin, and 2 multi-position door straps. The kit can be set up on any standard household bedroom door (or dungeon door, for that matter!) and adjusted to height. You can also use the straps on twin or full-size bed. From there, the fun begins... tying your victim in just the right places with a flash of red satin.

Those just coming to the world of BDSM can use the kit as intended, or even use the sashes alone as a blindfold and wrist/ankle restraint set. Those more seriously into BDSM play will also appreciate the versatility and creativity of the kit.
Design / Craftsmanship / Material / Size / Fit:

The multi-position door straps are made of polypropylene webbing, and are similar to nylon straps in quality and appearance. They're a deep, shiny black, about 1" wide, and include about 7 loops for secure placement of the cuffs. They appear very sturdily made.

The door straps fasten to themselves after wrapping vertically around a door, or horizontally across a bed, by looping through plastic hardware fasteners. A severe amount of struggling against the fasteners will result in loosening and eventual release of the door straps. So be sure your victim is interested in being tied up before you do so... or they'll be running away before you can say 'Safeword!'

You can also use the cuffs by themselves, if you so choose. You could even tie your victim to bedposts quite easily, as the wrist/ankle ties are each a full 28" (71 cm) long. The blindfold is a generous 50" (127 cm) long and about 4" across. It may be doubled over to wrap around the eyes only. One can peek out the bottom of the blindfold if not adjusted just-so in this manner, so you may want to leave it at full width.

Subs of all heights will fit the bill with the ample adjustable heights here. Simply slip the end of a wrist sash through the appropriate loop on the door strap, tie to the sub's wrist, and knot. You can knot above and below the wrist for more secure and comfortable restraint, or tie the wrist tight to the door strap. As there are 2 sashes for both arms and legs, the possibilities are about as extensive as your personal knot-tying repertoire.

The satin sashes are perfect for blindfolds and cuffs. They're opaque, soft, silky, bright red, and reeking of sensuality.

One drawback of the kit is the polypropylene smell of the door straps. It's a fairly strong chemical smell, unlike any I've ever smelled. It's certainly not a pleasant smell. Airing the straps out for a few days and/or washing in a light soap should do the trick. I don't recommend running the straps through the dryer, as the plastic could melt. Hang them to dry.

Material:

Polyester

Color:

Black

Length:

28" / 50"

Width:

1"

Closure:

Ties

Weight:

1 lb

Performance:

Though the kit was a bit confusing at first, being that it came with nary a direction to be read, my boyfriend and I figured them out together within 5 minutes. I love how soft and delicate the red sashes are, let alone how sensual and sexy! The door straps are sturdy and will last you a long time -- granted you don't play too rough. The plastic hardware could be broken with a fierce kick of a pump's sharp heel. The construction of the straps otherwise appears thoroughly solid.

I also love how the kit can be used over a bed if you choose, or even dismantled to use just the silk ties by themselves. This provides a well-appreciated versatility that anyone can appreciate from a bondage kit, especially at this price point.

Special Features:

Adjustable
Kinky
Two motors

Care and Maintenance:

The entire kit can be thrown into the washer if needed, on a cool setting, and with like colors. Hang to dry.

Be careful to store away from sharp objects, such as kitty claws! The sashes can snag if put in the path of pokey playmates. Rings and other potentially sharp items on the victim should be removed before use to avoid damaging the sashes.

The kit can be stored in a box all its own, or a cloth bag. The box it came in is bulky and provides no important information, so I don't recommend saving it for storage.

Packaging:

Though not useful for storage, he box does provide a QR code for those of you with Smart phones, and the code will lead you to Sex & Mischief's website.

The recyclable cardboard box is also incredibly indiscreet, featuring the words Sex and Mischief in large bold letters, and a myriad of photos of a scantily clad sub restrained by the kit.

Other