Sportsheets Sex and Mischief four ring cock cage - Cock and balls device from Sportsheets

Product Details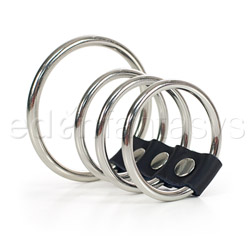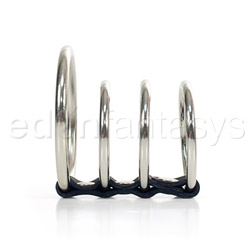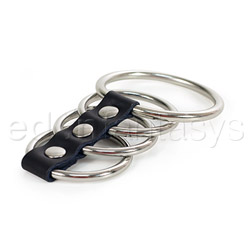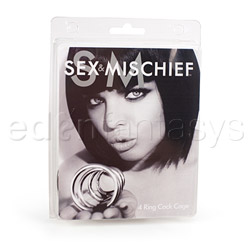 Summary:
For the adventurous couple looking to spice up a pretty hot sex life, the 4 Ring Cock Cage is a sturdy piece of equipment that can be attached to his equipment! It will keep him in a perpetual state of semi arousal as long as he really is into being kept in a state of semi-arousal. This is a metal ring type toy so it may not fit every man but it will fit most. It is heavy and may slide off a penis that is not erect enough.
Pros:
Quality materials,
Should fit a variety of men,
Will last for years
Cons:
May slide off thinner penises,
Cannot be worn as a chastity device,
No place to attach a leash
Best use:
Sex & Mischief's 4 Ring Cock Cage is a great introduction to cock and ball torture. The cage is heavy, looks wicked and will do what it is supposed to do; keep a penis from reaching full erection. From the newest beginner to the more advanced players this cage has something to offer.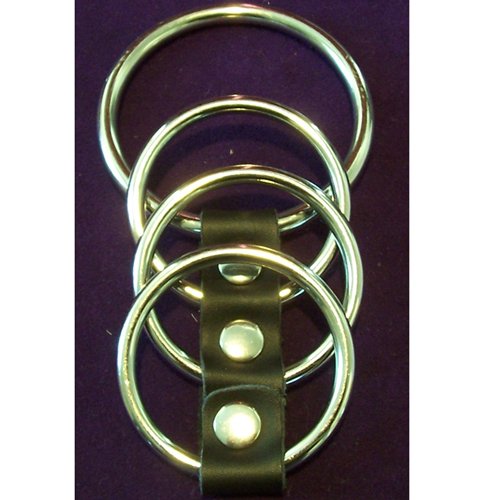 It cannot be attached for wearing like a hard core chastity device but the largest ring can be flipped down and is large enough to manipulate the testes through for some minor stretching. This can stabilize the cage but it will not hold the cage on if the penis isn't somewhat excited.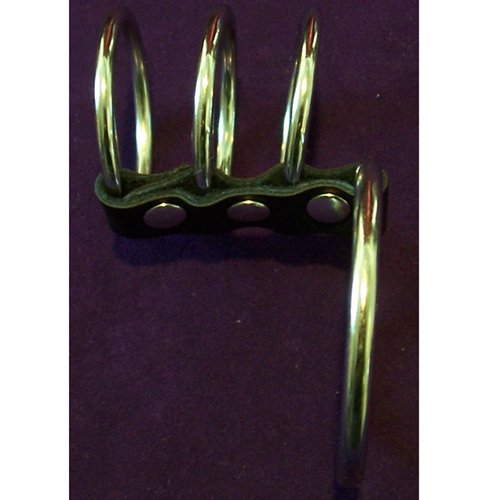 The cage's metal rings wrap around a semi-erect penis and prevent it from reaching full erection by pressure. It can be mildly to extremely painful depending on the amount of stimulation. It is not meant to be worn during intercourse.
For the adventurous couple who are looking for something rather more than mild to spice things up this cage is perfect. For the more advanced couple looking for chastity or masturbation denial this cage doesn't lock and it very easily removed making it less than desirable.
Design / Craftsmanship / Material / Size / Fit:

This cock cage is very well designed and will last for many years given even minimal care. It is composed of 4 solid metal, seamless rings held by a double strip of leather. Each ring can move independently and is separated by a large metal brad. The leather is good quality, heavy leather and the metal brads are fastened securely. The rings begin with one large 2 inch ring that can flip down to surround the testes and three 1.5 inch rings to cage the penis.

The user could forgo the testicle play and simply place the largest ring firmly against the base of the penis and then slide the semi-erect penis into the other three rings.
Depending on the relaxed size of the wearer's penis the cage may need to be held on by hand. As soon as the penis fills the rings properly it may be allowed to rest on the penis without being held. The cage is heavy (0.2 lbs) enough to slide off if the penis isn't either firm enough to press into the rings or is too thin to do so. Generally speaking most penises should fit and be restricted properly by the rings.

We found that if the testes are gently slid through the larger ring, and the penis is semi-erect, the cage is fairly securely anchored to the genitals. For more average girths the cage may need to be stabilized by holding it, but if you work it right this can be completely humiliating, furthering the joy of a sub who appreciates knowing how worthless and inadequate he is!

There is a very faint smell of leather on the strip but nothing overwhelming. The leather arrives stiff and the rings are slightly difficult to manipulate. Over time the leather becomes softer and the rings move more easily.

The cage, itself looks fairly wicked but not evil enough to cause your guy to run screaming away cupping his precious package! The rings are smooth and the leather is soft. This cage doesn't have a lock and isn't meant to be permanent so, in the case of an emergency, it is simple to remove. Even if the penis is near fully erect the cage can be slid easily off the penis should you feel that you'd like to reward your suffering play thing.
The rings are large enough that lube shouldn't be necessary and since the rings are metal they shouldn't catch and pull pubic hair.
There isn't an easy place to attach a leash to the cage though you could loop a soft leash through the largest ring where it wraps around the scrotum or flip the smallest ring outward and put a leash there. It works best if the user flips the largest ring down around the scrotum and then flips the smallest ring down to attach the leash to. I am not sure how effective two rings would be at caging the penis or how comfortable.
As we discovered, these rings will not conduct electricity well for pleasurable electro-stim play.

Material:

Leather

/

Metal

Material safety

Color:

Black / Silver

Weight:

0.2 lb

Performance:

In use the 4 Ring Cock Cage is fairly heavy and we found that both guys needed some stimulation other than the cage to achieve the correct girth to hold the cage properly. The guys have differing girths to their penises, when erect, but we found that the more average guy needed some support to keep the cage from sliding off. Once he was sufficiently aroused he did begin to feel the constriction but neither guy is actually aroused by the sensation of being caged so we realized that this sort of toy wasn't going to be 100% successful for us.
Now a lighter, and more fitted chastity device might have actually been more effective for them but neither of the guys are wanting to try this theory out, for now.
We have a friend who has a similar device to the 4 ring Cock Cage that he gets aroused just talking about so if you are aroused by the idea then this device is going to be perfect for you, or your guy.

Both guys admitted the cage was uncomfortable in a good way and not one that would leave a guy screaming or permanently injured. The weight of the largest ring wrapped around the scrotum was not extremely uncomfortable but it was easily felt.

I was impressed by the quality of craftsmanship and beautiful look of the toy. It is sturdy, should last through even rough use and is super easy to clean. Should the cage not work really well for you but the rings work well as support you could separate them from the leather strip and, voila, four cock rings.

Care and Maintenance:

This isn't the most discreet product out there! It doesn't attach to the penis with either straps or locks and if you should devise a way to keep it on while in public, it will not go through a metal detector like some of the better chastity devices will. So it is not the best for wearing during travel.

Most people are not going to be able to spot a cock cage sitting on a dresser as a kinky sex toy but still you would probably want to store the cage in a bedside drawer or other special container. The plastic packaging it arrives in is sturdy but rather large.

This does have a leather strip binding the rings together but I still washed the cage with hot water and soap. I then let it air dry fully before putting it away. I did this in the interest of a full review as leather can and will mold and mildew if it gets wet. This leather dried fully and was still soft and pliable. I rubbed it down with a soft cloth and stored it in it's plastic package.
To protect the leather the user could wipe the rings with a soft cloth saturated with a 10% bleach and water solution, or a commercial cleaner. I wouldn't recommend using leather cleaner as it can be caustic to sensitive skin, and it's not really necessary.

Packaging:

The Cage arrives in a plastic clam shell type package. The plastic is sturdy and can be used to store the cage though it is actually quite large. If space is an issue for you then recycling the package is your best bet. It has a paper advertisement inside the package that gives you some information about the product and a story start that you can access a website to finish.
Surprisingly, the woman on the insert is subtly hot and it is her eyes that are striking. It's not terribly discreet but it's not horrifyingly pornographic either.


Personal comments:

When the guys saw this product the look of horror on their faces was worth the list of demands they eventually demanded for their help in trying out this toy! We enjoyed the idea of the toy but quickly realized that this sort of play holds no interest for us.
Still, for enthusiasts, this is a well made and sturdy toy that should bring years of enjoyment.

Other

Size:

One size fits most

Texture:

Smooth

Safety features:

Food-grade material / Hypo-allergenic / Latex free / Non-porous / Phthalates free

Unstretched diameter:

1 1/2" / 2"

Max stretched diam.:

1 1/2" / 2"

Cock ring style:

Band

Style:

Cock Cage