Sportsheets Sex and Mischief red rope flogger - Whip from Sportsheets

Sex and Mischief red rope flogger videos
Product Details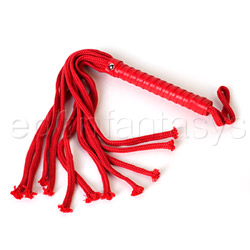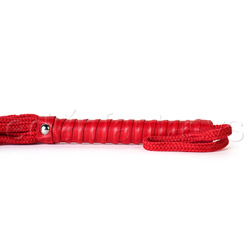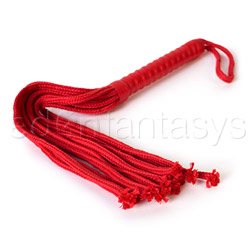 Summary:
For a walk on the gentle side the Red Rope Flogger is a perfect companion. This baby can pack a whallop but it takes a wide arching swing or a snap of the wrist that is possible for more experienced players. It is versatile, offers something for everyone and is gorgeous. Definitely worth a try!
Pros:
Gorgeous, soft, well made.
Cons:
Takes significant force to make it sting.
Best use:
The Red Rope Flogger by Sex & Mischief is definitely geared for the light flogging enthusiast. It is a rope flogger and CAN cause a significant stinging sensation but the amount of force it takes can be disturbing for some players and too physical for more than a few stinging strikes for others. I hesitate to say it's meant for beginners as I have met true novices that wanted nothing short of welts and bruises after a session. If, however, you are interested in just some very soft flogging or a sensual stroking or if you are interested in a workout type of flogging this is the toy for you! In short this flogger has something for everyone.
Design / Craftsmanship / Size / Material / Features:

The flogger is pretty and a very nicely saturated red from the wooden handle to the soft as silk falls. For all that it is mostly a teaser rather than flogger I actually like the look and heft of the thing. The flogger has a 6.5 inch wooden handle that is well wrapped in vinyl fabric and finished with a nickel free shiny brad. The rope handle is ample enough to fit just about any hand or look snazzy hanging from a belt. The flogger has 11 falls that measure 12 inches. The falls are made of the polyester rope and ravel easily but this is intentional as it adds to the sensual feel of the flogger in use.

If you have ever smelled PVC vinyl in fabric stores then you know what the handle of this toy smells like. The smell is not over powering nor will it 'stain' your hands.

For the very inexpensive price this is a good addition to just about any toy box. It adds a bit of whimsy to a more serious collection. It's also great for the more sensual players who don't necessarily want pain or for those who know how much pain a rope flogger can give! Once the falls ravel the silky soft material will be even more sensual. This is a flogger built for longer sessions and larger body coverage.

Material:

Polyester

Color:

Red

Length:

24"

Width:

1/4

Weight:

0.2 lb

Performance:

In use this flogger gives a brushing feeling that slowly builds in intensity the longer it is used. It can be used much more forcefully than other types of floggers because the falls are so very soft. If you want the intense sort of strike it takes a good bit of force to achieve. As the falls ravel with use the brushing sensation intensifies but never reaches the point of real pain, unless you want it to, just a warm sort of tingly feeling that is surprisingly erotic.

It is one of those floggers that can be used on any part of the body including the face if you are careful to avoid open eyes. It feels amazing when trailed over the skin all over the body; it's like being brushed with good quality silk.

While I normally prefer floggers with some bite, the force necessary to make the sharp sensation was disturbing to my partner, still I was quick to appreciate the appeal of this little gem. I could tolerate a much longer flogging and was able to slip into my mind space and just rest there. I didn't get the huge endorphin rush that my Heart's Leather Whip can deliver with just a few swings but I found myself relaxing much faster and sort of floating as my skin warmed up and began to tingle. This flogger blew away my preconceived arrogant assumptions and left me with an appreciation for the gentler side of B&D.

Care and Maintenance:

The flogger is made of sturdy materials despite its inexpensive price. It is unlikely to ever break the skin or require washing for hygiene purposes. Some warm water and mild soap followed by some time to drip dry should be all the user would ever need. I would recommend a good shaking to remove any accumulated dust if the flogger is left hanging for some time as a face full of dust is not an erotic experience!

The flogger can be stored hanging by its handle. I have found that a tie hanger you can buy in any department store works great for floggers with handles such as this one. The hanger can be placed in the back of the closet behind clothing away from prying eyes making it perfect for households with small children or nosy room mates. I would caution against storing this in direct sunlight as it could bleach the color over time.

Packaging:

The Red Rope Flogger comes packaged in a plastic bag that is form fitting and very minimalistic as well as recyclable. It has a tag that advertises the manufacturer. Sex & Mischief invites the buyer to read the story that is started on the card. There is a video and a QR code to scan should the buyer be curious!

Personal comments:

A friend of mine showed me that you can increase the sting factor of a rope flogger by tying knots along the falls either at the ends or at intervals. It adds weight to the falls as well. I have done this to another flogger and found it works just fine. This one I intend to allow to ravel just because it is so sensual!

Other

Texture:

Smooth

Circumference:

3"

Diameter:

1"

Special Features: