Sportsheets Sex and Mischief restraint wrap - Restraints from Sportsheets

Product Details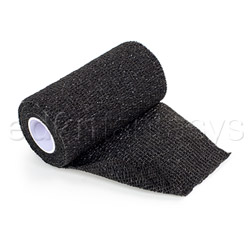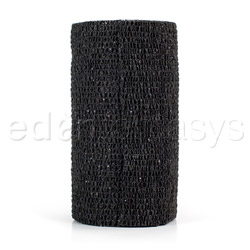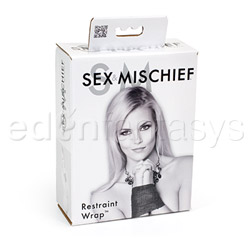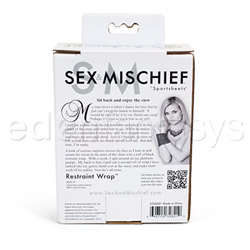 Summary:
Ready to introduce a little kinky fun into the bedroom, without overwhelming a partner with leather and chains? Give Sportsheets' "Sex and Mischief: Restraint Wrap" a try! It's a wide roll of self-sticking, breathable, latex-free material that won't pull at the skin or fine hairs. Available in classic black, it can set the mood for any mischievous scenario you might have in mind.
Pros:
Latex-free, breathable, light to medium bondage, 15 ft of product.
Best use:
Sportsheets presents another playful product from its Sex & Mischief line of bondage and erotic fun gear, the "Restraint Wrap" - a lightweight, re-usable bondage tape that sticks to itself, not to the skin! It's a quick wrap, easy on and easy off, that will make the wearer feel safe & secure. Both beginners and advanced users who enjoy having something discreet and easy for travel can enjoy this item.
Design / Craftsmanship / Material / Size / Fit:

Essentially, this product is the same type used in medical practices for bandaging wounds, except for the fact that it comes in black. The packaging, a sturdy box (perhaps a bit over-sized, but recyclable), includes one 15 ft roll (180 inches) of 4-inch wide wrap. This unique "weave" causes the product to stick to itself, almost like a Velcro effect, but not quite as tight of a bond. It's very thin, has some elasticity, and is latex-free, so it's safe for even sensitive skin types. There's a slight smell to it, but it's not offensive. Durability-wise, it will not tear easily; however, it can be cut into different lengths with a pair of scissors.

Material:

Cotton

Color:

Black

Length:

15'

Width:

4"

Performance:

This product performs very well for restraining purposes, without chafing the skin or cutting off circulation. With subsequent uses it will lose some of its elasticity and, at some point, a new roll may need to be purchased, but it's still a great value considering it can be used at least several times. It's also breathable, so sweating is kept to a minimum. As an eye blinder, it's fine, but wrapping it over the mouth several times does constrict breathing and also blocks the nasal passages a little due the the larger width, so stick to something else to quiet a partner such as a ball gag. This product is best for binding ankles and wrists. It's slightly water-resistant, but for increased longevity, use this in a generally dry environment.

Care and Maintenance:

Pre-trimmed segments can be stored by just wrapping them back around the included cardboard roll. This product is re-usable, but it is not intended to be washed. Just replace with a new roll should it lose its effectiveness.

Experience:

The first time I ever saw tape like this was when I picked up my dog from the vet. I thought, "How cool, it stays put and it won't hurt her when it's time to remove it!" It's not cheap stuff though, at least it wasn't back then, but here you get 15 feet for a fair price and it can be reused more than once.

I bound my feet together and it stayed put, better than expected. Agile hands could probably escape from this with a bit of wriggling, yet there's no fear of damaging the skin, which makes this a great introduction to BDSM.

Bound feet


Attempting to pull legs apart. Product holds.


Closure: product just sticks to itself!