The first and only FDA approved contraceptive that gives women the ability to control unintended pregnancy and the spread of STD's.

Product Details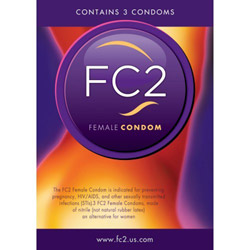 FC2 Female Condom® is inserted correctly when the inner ring is pushed past the pubic bone. The outer ring and part of the condom is flat around the opening of the vagina, covering the external genitalia. You can check that the condom is in place by inserting your index or middle finger into the vagina past the pubic bone. You can feel your pubic bone by curving your index or middle finger when it is a couple of inches inside your vagina. You should be able to feel that the inner ring is past the pubic bone on the front wall of the vagina.
Most women find FC2 easier to insert with practice.
Properties

Condom size:

Regular

Sensitivity:

Regular

Lubrication:

Warming

Texture:

Smooth

Pack:

3

Brand:

FC Female condom

Material:

Polyurethane

Material safety

Color:

Clear

Weight:

0.1 lb