Wet International Wet body glide - Lubricant from Wet International

Product Details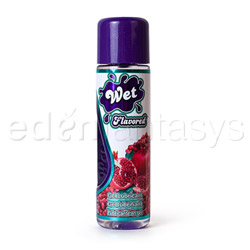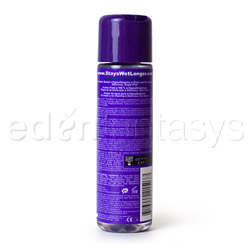 Summary:
Wet Flavored lube is a tasty, easy-to-apply lube that adds some more sweetness to your play time. This water-based lubricant might not be the best choice for sensitive users, but it should please many people with its fruity taste and no-fuss packaging.
Pros:
Flavor is not overwhelming, sugar-free, non-staining, sturdy bottle.
Cons:
Sticky when dry, not suitable for users sensitive to glycerin, parabens, and/or aspartame.
Texture / Consistency / Thickness / Viscosity:

While it's called a gel lubricant on the packaging, it's not a particularly thick lube. The viscosity is fairly low, but it's not runny. When a drop is applied to the skin, it will slowly spread when tilted; this lube doesn't try to get away from you. This lube spreads quite thinly and retains some slipperiness, which allows you to feel texture and heat more easily.

Base:

Water

Ingredients:

Water, Aloe Barbadensis Leaf Juice (Aloe Vera), Glycerin, PEG, Flavor, Carboxymethyl Hydroxyethylcellulose, Sodium Benzoate, Tocopheryl Acetate (Vitamin E Acetate), Propylene Glycol, Tetrasodium EDTA, Methylparaben, Imidizolidinyl Urea, Carbomer, Aroma, Tuetrol TE, Citric Acid, Pheromone

Taste / Aroma:

Flip the cap open and you can just barely smell this watermelon-flavored lube. There's a hint of sweet, fruity freshness, but not much aroma unless you squeeze the bottle or apply a drop to the skin. Even then, the scent is subtle. The taste, however, is much more noticeable. While not initially flavorful, the melon flavor kicks in soon after the first lick. While the bottle reads "Watermelon," it reflects both watermelon and honeydew melon flavors. A bit of cotton candy flavor is in there as well, and it blends with the melon flavors nicely. There's a slight aftertaste that's probably due to the aspartame, but it's less noticeable during play than when it's straight from the bottle. The melon flavor is neither overwhelming nor lacking; Wet Flavored lube gives you a subtle hints to keep you wanting another taste.

Performance:

Wet Flavored lube spreads well and stays slick nicely. A little water or saliva can revitalize the lubricant if things get dry. Since the lube is on the thinner side, it may be better suited for manual and oral activities than for long sessions of penetrative sex. But it really depends on the people involved and their needs. Wet Flavored lube works well as a supplement to your body's natural juices but may not satisfy people who want a thicker, more substantial lubricant. When dry, it leaves a somewhat sticky residue behind, which is probably due to the glycerin.

As far as the container's performance goes, the cap snaps on tightly, and the bottle is not easily compressible. You're always in control of how much product you apply. A gentle squeeze gives you a single drop of the lube, and you can squeeze harder for a steady stream. While this lube seems well suited to roll around on a bed or in a nightstand without leaking, the instructions recommend storing it upright.

Safety features:

L-Arginine free

Special features:

Packaging:

This lubricant comes in a plastic bottle as seen in the pictures with no additional packaging or instructions. The bottle features a product summary, directions, and ingredients.

Personal comments:

I'll lick this lube off my hands, my body, my partner's body, and pretty much anything else. I'll even squeeze a drop or two right onto my tongue! This lube is quite tasty to me; I can taste the aspartame, but I kind of like that shade of sweetness.

I like using this lube for oral play, nipple play, and for some toys. I prefer a thicker lube for larger insertable toys and for PIV sex with my partner. I also own the strawberry-flavored Wet Naturals lube. I prefer this lube's watermelon flavor, but I think the Wet Naturals lube's texture is better because it does not contain glycerin.