Westridge Laboratories Juicy Lube 10 Pack - Gel from Westridge Laboratories

Product Details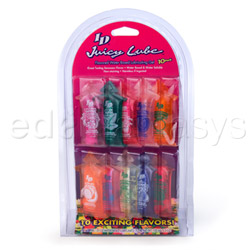 Summary:
The taste, performance and travel friendly size make this product an excellent buy! I think this is wonderful for beginners who are experimenting with oral or anyone else who wants to add some spice to their sex life! 10 tantalizing flavors let you try them all and decide which is your favorite.
Pros:
10 Delicious flavors, travel sized and smells good. Great for beginners.
Cons:
Contains Aspartame, Parabens and Glycerin. Leaks, not easy to open.
Texture / Consistency / Thickness / Viscosity:

This lube feels very smooth, silky and thin. But don't let that fool you, it keeps things slick and a little goes a long way. I personally love the texture of this lube. Its thinness doesn't mask sensitivity for you or your partner. I found that once applied, it does stay in place better then I thought it would. It can be a bit runny when applying, so I would recommend pouring into the palm. It is water soluble and non-staining, so if you get a bit carried away, it washes right out. After playtime is over, it does leave a slightly tacky feeling that goes away after it dries on the skin.

Base:

Water

Ingredients:

Water(Aqua), Glycerin,Propylene Glycol,Cellulose Polymer,Polyethylene Oxide,Carbomer 981,Polysorbate 20,Methylparaben,Sodium Benzoate, Sodium Saccharin,Aspartame,Tetrahydroxypropyl Ethylenediamine,Diazolidinyl, Urea, Flavor (Aroma)

Color:

Multi-color

Taste / Aroma:

I really enjoyed the taste and smell of this lube. ID Lemon Drop is my personal favorite flavor, and I was very surprised that it does indeed taste like lemon drop candy! I would not have thought lemon flavored lube would have been very good, but it's extremely tasty! Just a warning, the Cool Mint flavor is very strong for those that mind, but the taste doesn't last very long, so we needed to re-apply every few minutes to keep the flavor going strong. This lube has a lighter smell and a strong taste that is not too overbearing. The aftertaste is surprisingly not very strong and can definitely go unnoticed until playtime is over. And even then, it's not anything a couple sips of water can't take care of.

Flavor:

Berry / Bubblegum / Cherry / Lemon / Mint / Passion fruit / Peach / Pina colada / Strawberry-kiwi / Tangerine

Performance:

ID Juicy Lube 10 pack is made by Westridge Laboratories Inc. This lube is water based, dye free, non-staining, latex & polyurethane safe, toy safe and sugar free. ID Juicy Lube is water soluble, so it will just wash away with any kind of bath/shower play. It does contain parabens, glycerin and aspartame. So if you have allergies to these ingredients, this is probably not a lube for you. ID does offer a hypoallergenic lubricant called ID Moments which does not have glycerin or parabens in it. ID Moments is not flavored though. All water based lubes will eventually start to dry out due to water evaporation, so re-applying for longer term play is inevitable. I personally did not have any drying out problems with this lube, but I was applying liberally to keep the taste going.

Safety features:

L-Arginine free

Special features:

Packaging:

This 10 pack comes in your basic hard to open plastic packaging. The information on the packaging is not as informative as I think it should be. It doesn't state on the package that it is sugar free, dye free or polyurethane & latex safe. I had to go to the company website to find that information out. The travel sized Juicy Lubes are 3 inches long with removable tab intact and a little over an inch wide and made of a soft clear plastic. They are a little difficult to open because the removable tabs don't twist off easily. It kinda gave us a brief stopping point in our play while I was running around looking for scissors.

Volume:

0.25 fl.oz.

Weight:

4 oz

Experience:

I was hesitant to try ID Juicy Lube again. When I was 19, a former boyfriend and I stayed at a hotel for a night to get out of our houses and have a little fun. We bought ID Juice Lube Strawberry Kiwi flavored lube for massage and sex play. To make a long story short, I ended up walking 5 miles home, smelling strawberry kiwi the whole way. Did I mention the chafing?? Not fun. So needless to say, I did not use ID Juicy Lube after that (Laugh).

10 years later, my experience with ID Juicy Lube was 100% better. This lube was not nearly as sticky and tacky as it was 10 years ago. And if I had not wanted to take a shower after our play, I wouldn't have HAD too. My husband purposely didn't shower after our play so we could fully experience the after effects of this lube. He did not feel sticky afterwards at all and no longer could smell the lube. ID Juicy Lube has come a long way since my younger years. I can't wait to buy a larger size of the Lemon Drop flavor for us!

Other