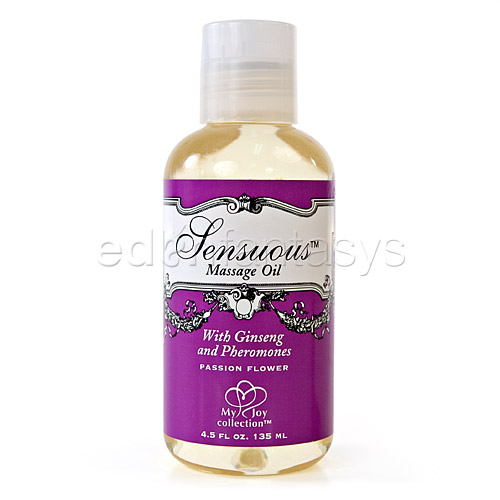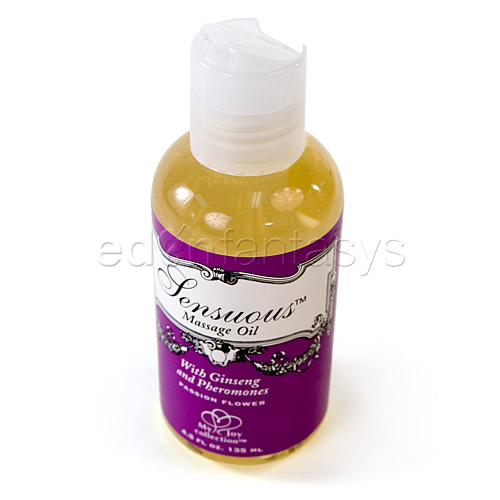 This product is out of stock.
Notify me
A closer look
Massage oil with ginseng and pheromones
How it feels
Oil based formula for easy gliding
Flavor: Passion flower
Ingredients: Sweet Almond Oil, Safflower Oil, Sesame Seed Oil, Isopropyl Myristate, Avocado Oil, Myristate Propionate, Jojoba Oil, Macadamia Nut Oil, Kukui Nut Oil, Actiphyte of Rose Hip, Ginseng, Hawaiian White Ginger, Juniper Berry Fragrance, Evening Primrose, Jasmine, Sun Flower Petals, Rosemary, Lavender, Fragrance and Pheromones
How it measures
Volume: 4.5 fl.oz.
Weight: 4.5 oz
We love this massage oil simply because it's inexpensive, lasts a long time, and smells amazing. We have only ever tried a massage candle, and after trying this oil we won't be looking for another, we are that pleased.

- Smells great - All natural - Long lasting

If you're looking for a nice relaxing oil, with a lovely lavender vanilla smell, that absorbs nicely into your skin with no greasy after affect, then I would recommend this oil for you.

Inexpensive, all natural, lightly scented and multipurpose!