How to choose a harness and strap-on that's right for you
There are three general types of harnesses - thong-style, two-strap and panty-style - and each one has its up and downs. Additional considerations you should take into account are the material, the security and stability of the fit, the size of the O-ring (that's the piece that secures the dildo to the harness and sets the parameters for the width of the dong you can use) and most importantly, which strap-on to choose.
Harness styles
One-strap

(thong-style:) this type of harness is built just like a G-string, i.e. a single

One-strap

strap runs between the legs. This is a surprisingly stable design, and you want a harness that will support a dildo without sliding around; a strap-on that stays in place looks more realistic and that authenticity will enhance your role playing all the more. Many women also enjoy the friction that a strap running down the middle brings and will even wear them in every-day occasions. Some one-strap harnesses we recommend are the Bikini Harness and the Butt & dildo harness.

Two-strap

Two-strap

(jock strap-style:) two-strap harnesses are also quite stable, and the immediately apparent advantage is that having two straps that run down the crotch instead of one allows access to the genitals, and this allows both men and women to give and receive pleasure at the same time. A two-strap harness we recommend is the Heart harness.

Panty-style

(shorts harnesses:) these harnesses are the least secure, but arguably,

Panty-style

and not without exception, sexier and more comfortable. The give and take, or catch 22, is that the tighter the shorts, the less stability they offer. What some people like about them is that they camouflage, or cover, the genitals, but you can achieve the same effect with any style harness by wearing a gaff underneath it. A panty-style harness we recommend is the Grrl shorts strap-on harness.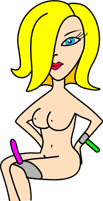 Miscellaneous
harnesses: This category includes harnesses that can be worn around other parts of the body beside the waist and harnesses that allow you to use multiple strap-ons. The
Lap dancer
which is worn around the thigh and the tool chest which is worn around the chest are two of our favorite ways to use harnesses in different positions.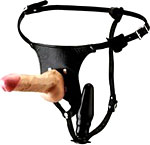 Vac-u-lock male set
As for harnesses that use more than one dildo, these strap-ons can be used in a variety of ways to pleasure the strapper, the strapee or both. The high-quality leather
Butt & dildo harness
allows both a dildo and anal plug attachment, and the front-piece that fastens these two pieces is reversible so the two of you can take turns sharing the fun. Another multi-probe harness we recommend, the
Vac-u-lock male set
comes with an anal probe on the interior, a penis shaped dildo for the exterior and also has a second opening so that you can use your penis for double penetrations.
Harness materials
Leather

Leather:

as far as durability, quality and comfort are concerned, you can't beat leather; Its reputation in all acts B&D and S&M is well deserved, and the cost is generally proportional. That's because besides looking absolutely sexy, it also achieves a harness's two main objectives: it's comfortable and secure (as long as the fit is right.) In addition, it also molds to the shape of the wearer over time and has an organic feel. One easily surmountable obstacle leather products present is that they have to be hand washed, preferably with commercial toy cleaner or anti-bacterial soap. But big deal, right? Some leather harnesses we recommend are the Corsette harness and the Hardcore harness from Hustler.

Nylon

webbing: nylon harnesses are generally fastened with buckles (usually the

Nylon

more secure choice) or Velcro and have a high sex appeal potential - if you get the right one. SS69610 Nylon harnesses are generally rather inexpensive and the best bargain for your money. Some harnesses we think are sexy and will ignite the mood are the Brazilian harness and the Bare as you dare harness.

Fabric

Fabric:

this is a relatively inexpensive material, and you'll usually get what you pay for; fabric harnesses generally rip more easily, but that doesn't necessarily mean they'll be less secure. A well fitting harness of any material will stay in place and won't slide around. Fabric's largest advantage is probably that it's washable, and that makes it hygienically superior. So if you find one you like, go for it.

Latex

, the cheapest of the three materials, feels almost like plastic, but soft

Latex

and stretchy, and is relatively secure assuming a good fitting harness. Of course it won't be as durable as a high-quality leather harness, but the compromise is minimal compared to the bargain. One of our most fun latex harnesses is the Wireless latex harness with slender penis - it comes with a six inch dong and a micro-vibrator you can slide anywhere along the shaft. Two drawbacks with latex harnesses are that you might have to replace them from time to time if you like it rough and you won't be able to use them if you're allergic to latex.
Sizing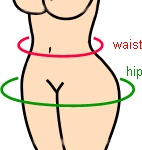 Two factors you should take into account when choosing a harness with the best fit for you are your waist size and whether you prefer to wear it lower or higher on your hips. A comfortable harness is crucial to your enjoyment and sexual satisfaction, and not all harnesses will fit you the way you like. Leather harnesses are generally adjustable to smaller waists sizes (up to 40-44") than those of other materials, and other harnesses can measure all the way up to 68". The Lover's super strap harness and silicone probe , for example, adjusts up to 64". In addition, your local tailor will be able to permanently customize many harnesses to your particular size.
size

XXS

0

XS

2

XS

4

S

6

S

8

M

10

M

12

L

14

L

16

XL

18

XL

20

waist (in.)

23.5
24.5
25.5
26.5
27.5
28.5
30
31.5
33
35
37

hip (in.)

34
35
36
37
38
39
40.5
42
43.5
45.5
47.5
If you have a preference for how high or low to wear a harness make sure you get one with an adjustable crotch strap as well. Two such harnesses are the Heart harness and silicone dong set and the Butt & dildo harness. Different harness fits allow different uses of leverage, and that preference varies from person to person, but the most important thing is to have a secure fit.