A Handy-Dandy Guide to Penis Pumps: For Men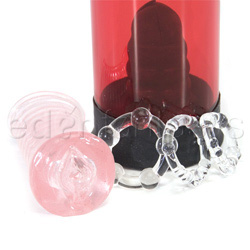 Nick Manning's masturstroke™
masturbation kit
A cock ring is simply a device worn around the base of your dick to help you maintain an erection. All you rocket scientists know that your erection is caused by blood flow, right? Since blood flows into your johnson through arteries deep inside your dick, and blood flows out of your dick through the veins nearer the surface of your tool, wearing a cock ring can help to keep more blood inside your dick shaft for a longer period of time. (See Part 2 of this Guide.)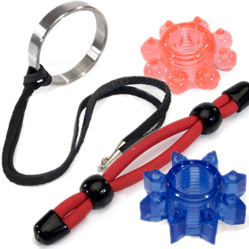 Cock rings
I recommend a flexible or adjustable cock ring. These are generally made of stretchable rubber or leather. For the more daring among us, there are the rings of metal variety. While some of these look way cool, they are a bitch to put on and take off. They can also be dangerous if worn for too long a time.
Here's how you put on a nonadjustable cock ring.
1. Pull your ball sack through the ring first.
2. Follow this by popping each of your balls through the ring one at a time.
3. Now bend your cock down and pull it through the ring.
4. Pull the ring snug against your pubic bone at that base of your cock.
Here's a tip: Put your cock ring on before you have a full hardon, it will make the task easier. To take the cock ring off, simply reverse these steps, pushing your flaccid cock back through the ring first, followed by each of your balls, and finally your ball sack.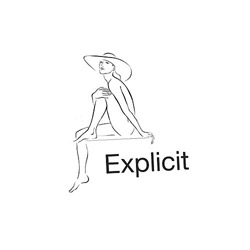 A Pumper's Handbook
If you use a cock ring before you start pumping you'll want to use one that is as inconspicuous as possible. Too big a ring will get in the way of you making that all important airtight seal at the base of your dick. Some pumping guides suggest that you put on the cock ring after you've pumped to a full erection. But you'll only be able to do that if you use a flexible or adjustable cock ring for the reasons I mentioned above.
Since the general agreement is that a penis pump can be useful in helping a guy get an erection, let's begin our first pumping exercise with this as our objective. We'll leave the more controversial and illusive "enhancement" goal for later.