A Handy-Dandy Guide to Penis Pumps: For Men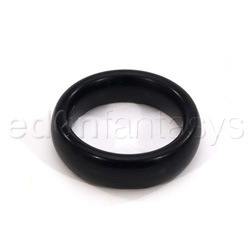 Begginer cock ring
We learned in Part 2 that the penis pump was invented in early 20th century Europe as a "treatment" for impotence, or as we currently know it: erectile dysfunction. The device was simple, an airtight cylinder topped by a bulb that created a vacuum within the chamber. Insert a limp dick - pump, pump, pump and tada! - an impressive erection resulted. There was a problem, however. When the vacuum was eliminated and the cylinder removed the "faux-erection" drained away nearly as quickly as it arrived. It was only a matter of time until the inventor discovered that one needed to constrict the flow of blood back into the body once the cock was engorged. And so the earliest forms of the penis pump and modern cock ring (or compression ring) were born at about the same time.
This is an important part of the story. Because successful pumping, either to treat ED or to work on that illusive endowment enhancement, will depend on the use of both pump and ring. But we'll learn more about that in Part 4 of this guide.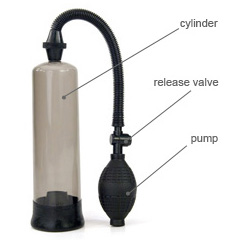 pump schema
Before we get too far ahead of ourselves, I think we'd better take a closer look at the mechanics of a penis pump. Every penis pump has basically the same three features: A cylinder (or vacuum chamber), a pump attached to the cylinder to create the vacuum, and a release valve to eliminate the vacuum. But that's where the similarities end. There seems to be an endless array of pumps on the market. Prices range from around $25 to over $600. What accounts for the disparity, you might wonder? Well, any number of factors.