A Handy-Dandy Guide to Penis Pumps: For Men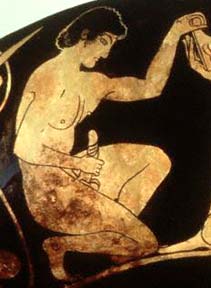 Red-figure kylix
You know the old adage, "Use it or lose it"? They may have had a penis in mind when that maxim was coined. Researchers agree - erections are good for you. When you get a woody, your cock is engorged with oxygen-rich blood, which is essential for the upkeep of the smooth muscle tissue. This kind of tissue makes up about 90% of your cock. You can see how important a healthy circulatory system is to a vibrant sex life. An oxygen deprived cock will build up a kind of plaque in your cock. It resembles scar tissue. This will cripple your rod (Peyronie's disease) or rob you of your wood altogether. Some people claim that using a penis pump can help reverse this; but more about that later.
I also want to alert you of some startling new data coming out of recent research about masturbation (Editor's note: Edenfantasys carries great variety of masturbators). Australian researchers questioned over 1,000 men who had developed prostate cancer and 1,250 men who had not, about their sexual habits. They found those who had ejaculated the most between the ages of 20 and 50 were the least likely to develop prostate cancer.
The protective effect was greatest while the men were in their 20s. And get this: Men who ejaculated more than five times a week were a third less likely to develop prostate cancer later in life. But let's not get off topic too much.