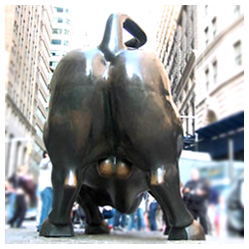 Wall Street Bull
Perhaps, this is as good a time as any for us to briefly divert our attention to ball pumping. It will have an impact on the whole "male enhancement" thing; as we will see in a minute. I mentioned in Part 1 that guys have been stretching their balls for just about as long as men have had balls…and that's a mighty long time. A pair of big low hangin' balls is the only thing that screams male virility and potency as much as a big dick. In fact, many societies throughout history considered a man's nuts as sacred. They were revered as objects of religious, social, cultural, and even magical power.
When a man would take an oath in ancient Rome, he would grab his balls in the same way we put our hand on a bible today. In fact, that's where we got the word "testify", from the Latin: testis. Men discovered early on that ball stretching was erotic, fun, and relatively easy. Just to clarify: when I say "ball stretching", I really mean sack (scrotum) stretching. One cannot increase the size of his actual balls (testicles). Soon men in many societies were stretching their junk to call attention to their manliness. Men were able to lengthen their balls with very little effort with the help of a stretching device, of which there are several varieties; weighted rings work real nicely.
Pumping buffs have known about ball pumping for decades. It didn't take a great deal of ingenuity to figure that out, right? The ingenious discovery was that if one used a larger cylinder, the kind that would accommodate both one's dick and balls at the same time, the pull at the base of one's cock would be greater than just pumping the dick alone. Clearly, this would intensify the stretching of the suspensory ligament, causing more of a lengthening effect.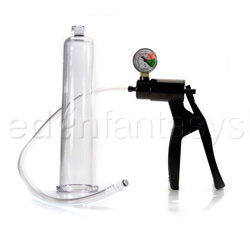 Male enlargement
Here's a tip: You can only swap out one size cylinder for another size if you have a more advanced penis pump. These pumps have a more sophisticated coupling device that locks the male (hose) and female (cylinder) parts together; making a secure seal. This setup also allows the pumper to disconnect the hose and pump mechanism from the cylinder, leaving the airtight seal in place on one's cock. This feature comes in handy if you choose to one day add weights to your pumping device, or if you want to use other attachments. (See Part 3)
I am compelled to raise some very serious safety issues here. Every trustworthy pumping guide warns the user away from using a pressure greater than –10 in Hg (mercury inches). But some advocates of extreme pumping go on to say that adding weights to the cylinder will further stretch out the suspensory ligament. The problem is that one cannot add even a modest weight to the cylinder at –10 in Hg and expect the vacuum to hold. Therefore, without coming right out and saying so, these pumpers tacitly advocate pumping at greater pressures. I think this is really irresponsible and dangerous. So prospective pumpers BEWARE!