A Handy-Dandy Guide to Penis Pumps: For Men
Part 4 - Doing the Deed; The Art of The Pump
Preparation
Poll results

Do you have any hair on the shaft of your penis?
Total voted: 100

Poll results

Do you shave or trim your pubes?
Total voted: 100

Take a good look at your willie. If you've got a big bush down there or if there's a lot of hair growing on your rod, you might want to consider doing some light trimming. Anything that will interfere with creating the airtight seal at the base of your dick is going to be a problem. If you do shave, wait a few hours after shaving before you get on with your pumping.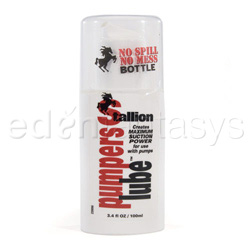 Stallion pumpers lube™
Grab your lube, but before you start slavering all over the place, get a feel for how your pump is going to work. Make sure you know where the release valve is and how it works. To test your pump, press the cylinder against the palm of your hand or your inner thigh, create an airtight seal. Then squeeze the pump mechanism (bulb, piston, plunger, or handgrip) to create the vacuum. You should feel a pull on your skin as the vacuum forms. Once you get the hang of it, press the release valve to eliminate the vacuum. (If any of this is unclear to you, review Part 3 of this Guide.)
Ok, let's try to relax. How about taking some nice deep breaths? The more relaxed and comfortable we are the better our pump session will be.
Start by lubing up your dick. Get a nice boner goin'. Slather the lube around the base of your dick too. Be generous in the application. Wipe off your hands and grab the cylinder. Make sure your pump mechanism is securely attached to the cylinder. If you have a pump with a stretchy rubber, or jelly-like donut seal at the base of the cylinder, you're in luck. These will help create a tighter, more secure seal. Of course, this will also necessitate that you have a hard enough stiffy to push past the seal opening and into the cylinder.
Work some of that lube into the seal itself; either with your fingers or the tip of your dick. Keep wiping off your hands, because when it comes time to actually operate the pump mechanism you don't want to get that important part of your device covered in lube. It will be too slippery to handle.
Now slip your hardon inside the cylinder. If you've lost a bit of your wood, don't be too worried. Just as long as you can get your dick through the donut seal you'll be fine. If you can't get hard enough to do that, remove the seal and place your cock in the cylinder as is. You can always replace the seal later, once you're good and hard.