Have you ever tried a penis pump?

Poll results

If no ...
I've never tried a penis pump...
15%

(15)

15%

(15)

15%

(15)
Total voted: 100

Poll results

If yes ...
I tried a penis pump...
15%

(15)

15%

(15)

15%

(15)

15%

(15)
Total voted: 100

Previously, we discovered that a penis pump is indeed useful in helping a guy get a hardon. We also found that pumping for "male enhancement" is possible; just as long as we don't expect our pump to work miracles or expect our newly enhanced thingy to be a permanent fixture between our legs.
Putting aside all the hype, hoopla, and outrageous claims, two facts remain: A) Pumping can be erotic fun and B) The dedicated pumper can alter the appearance of his unit. If either of those facts inspires you to part with your hard-earned money for the thrill of possessing your own penis pump, stick around because I have some important information for you.
Finding the right pump for you can be a daunting task. There are so many to choose from and prices vary dramatically. To make the task a little easier, ask yourself why you're considering a pump purchase. Is this purchase just for fun, where a novelty grade model will do just fine? Or do I want to buy quality, and invest in something that will last? The answer to that question will help you determine what features you should look for in a pump. At this point I'm going to refer you back to Part 3 of this Guide, The Mechanics of the Penis Pump. This will give you a frame of reference for sifting through the various models.
Here's a tip: Even if you purchase a pump on a lark and you don't care much if the blasted thing lasts beyond a couple of uses, you will still want to buy with an eye to safety. You certainly don't want to injure yourself in pursuit of a little sexy fun, right? With that in mind, there are few things to look out for. Some of the less expensive pumps have cheap plastic cylinders that can crack and splinter. Often the valves are poor quality and the pump mechanisms are flimsy. I'd stay away from them, if I were you.
If you want long-lasting quality, look for a durable , or industrial strength glass cylinder. Look for airtight valves, quality durable tubing, and a high-grade plastic or metal (even better) pump mechanism. Regardless of why you buy a pump, always look for one with an easy to find and easy to operate quick release valve; this is the most important safety feature of a pump.
There are three grades of pumps: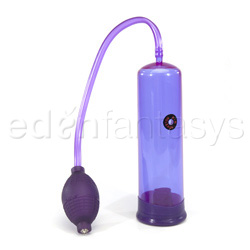 E-Z™ pump
Novelty grade pumps are inexpensive, so don't expect them to last. However, you can still have a lot of fun for the expense of a nice dinner out…about $25 to $40.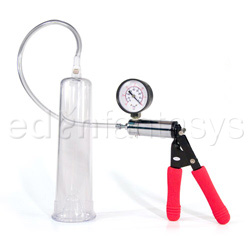 Penis pump system™
Amateur grade pumps can range from about $75 to $125. Most pumps in this category offer everything you'll need for safe pumping including a pressure gauge. Bear in mind, if you are unable to monitor the applied pressure injury can be caused. A guy can hurt himself and not even know it; pain or discomfort doesn't always accompany an injury.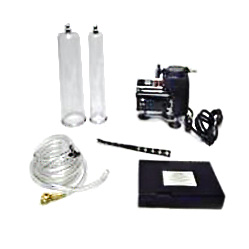 Basic MegaVac Pump System II
Professional grade pumps can range from $150 to well over $300. The most expensive devices feature an electric pump mechanism. Price is not the only indicator of quality, but you can expect a professional grade pump to last.
Those who are looking for quality, long-lasting devices should look for the more sophisticated coupling device that locks the male (hose) and female (cylinder) ends together to make a secure vacuum seal. This setup not only allows the pumper to achieve a good level of suction, but he can disconnect the hose and pump mechanism from the cylinder while leaving the airtight seal in place at the base of his cock.