A Handy-Dandy Guide to Penis Pumps: For Men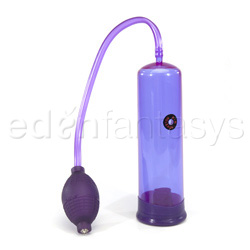 E-Z™ pump
Second, the pump mechanism: This is attached to the cylinder and it is responsible for drawing the air out of the chamber to create the vacuum. Again, sounds simple enough, right? Wrong! For as many different kinds of cylinders there are out there, there's an even more startling assortment of pump mechanisms. These range from the simple squeeze ball type of pump to the elaborate motorized pump mechanism. Scary, huh? As I mentioned above, the job of the pump is to create the vacuum in the chamber. A feeble pump won't be able to do the job, and your pumping days will end even before they begin.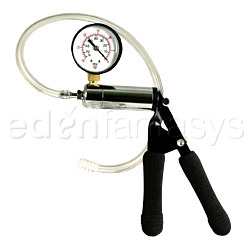 COLT™ vacuum pumpwith pressure gauge
Some of the more elaborate pumps come with gauges, "googas," and whatnot. I guess they're trying to sell us on how high tech they are. I'm all in favor of having a gauge to monitor the pressure building up in the chamber, but the more moving parts there are, the greater the likelihood that the blasted thing will spring a leak. So lesson number two: When purchasing a penis pump look for a durable but simply designed pump mechanism.