A Handy-Dandy Guide to Penis Pumps: For Men
In the last section we took a closer look at the mechanics of a penis pump. Every penis pump has basically the same three features: a cylinder (or vacuum chamber), a pump mechanism attached to the cylinder to create the vacuum and a release valve to eliminate the vacuum.
Now, what do you say we take one of these babies out for a ride? In doing so we'll pay attention to the proper and safe use of a pump. So why not drop your drawers and get comfy? We may be here for a while.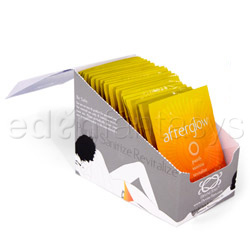 Afterglow toy and body wipes
Here's what you'll need to have close at hand: your pump, some lube (I suggest water based lube, it makes clean up a whole lot easier.), your trusty cock ring, and some towels or wipes for keeping your hands free of lube while operating the pump mechanism.
If you bought your pump as a kit, there's a good chance the manufacturer included a cock ring (or compression ring) in the package. Are you not sure you'd know a cock ring from a hole in your head, or know how to use one even if you knew what a cock ring was? Ok, here's a quick tutorial.