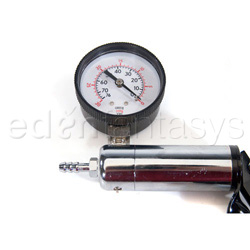 COLT™ vacuum pump system™
Press the cylinder tightly against your pubic bone at the base of your cock. Grab the pump mechanism and give it a couple of squeezes. If you've got an airtight seal goin', you will begin to feel a snugness and a pull. If you're lucky enough to have a pressure gauge on your device, increase the pump till the gauge reads 5, or up to, but never more than 10. If you find that you need to keep pumping just to maintain the pressure, this means you've got a leak somewhere. Probably at the base of your cock, but it could also be the connection between the pump mechanism and the cylinder. Either way, you'll have to resolve this before you continue.
If everything is going smoothly, you'll be able to see your hardon "grow" (in length and girth) inside the chamber. How fun is that? There ought to be just enough suction for you to feel the pull and enjoy the show. Stay with your body; go slow and be gentle. It will take some time before you discover your body's own unique response to pumping. Continue to monitor how the pumping session feels. If there's any discomfort or pain, STOP immediately! Press the release valve to terminate the vacuum.
Your first few sessions should never exceed two 10 minute back-to-back sets with a break in between those sets for some cock massage. Remember, this first pumping exercise has the simple goal of helping you get wood. And you should have accomplished that by now. So let's not get carried away.
If you're in an altered state, because of drugs and/or alcohol you should not be pumping. If your body is desensitized you'll be more likely to make errors in judgment. For example, pumping for too long, or pumping up too quickly. Both will lead to broken capillaries and bruising. Also, keeping the rim of the cylinder in place for too long time will cut into the delicate skin at the root of your dick. You can also cause damage to the ligaments surrounding your dick. So please, have your wits about you during your pump sessions.
Use that massage session in between your pumping sets to do some edging. Don't know what edging is? Here's the deal; edging is a way of masturbating where you stimulate your cock to the edge of an orgasm, then either slow or stop the stimulation in order to make things last. This method of delaying orgasm can be fun all by itself, or you can use it to build up a more powerful orgasm when you have one.
Once you're finished with your pumping session it's time for clean-up. Be sure to thoroughly wash your cock with soap and water; take a piss too. If you don't get all that lube off, your skin will be come irritated and you'll itch like crazy. I strongly advise that you keep your pump cylinder, hose, pump mechanism, and any inserts clean too. Lube build-up is never a good thing. Here's a tip, the better polycarbonate cylinders and silicone inserts are dishwasher safe.
Next: Part 5 - I Made Me Big - or - Myth Busters!