A Handy-Dandy Guide to Penis Pumps: For Men
Part 5 - I Made Me Big - or - Myth Busters!
Pump's Effect on Penis Size
In the last section we got acquainted with penis pumps in an up close and personal way. Since there is general agreement that a penis pump can indeed be useful in helping a guy get a hardon, we began our first pumping experience with that precise goal; getting a strong, full erection. In doing so we paid attention to the proper and safe use of a pump.
Now we'll turn our attention to that more illusive and controversial claim of "male enhancement" through pumping. We'll begin this second experience with the goal of trying to add length and/or girth to our cock using a pump. In doing so we'll try to get a handle on all the hype swirling around the whole notion of penis enlargement. And we'll try to separate what is fact from what is fiction.
Poll results

Do you think penis pumping can increase penis size?
15%

(15)

15%

(15)

15%

(15)

15%

(15)
Total voted: 100

Poll results

(If you answered A, B, or C in the last question) Do you believe the increase in penis size is permanent?
Total voted: 100

We already know that we need to use our penis pump carefully. Overuse or over-enthusiastic pumping can cause blood vessel damage, bruising, and blistering. If you have a pressure gage on your device, always keep the pressure between -5 and –10 in Hg (mercury inches), never any more.
Last time we discovered that if everything is connected properly and we have an air-tight seal at the base of our dick, we're able to see our hardon "grow" in length and girth inside the vacuum chamber. By maintaining a nice constant pressure we can feel the erotic pull of the suction while we enjoy the show.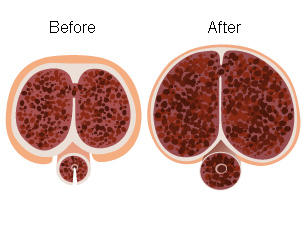 But is our dick really growing? Is it actually gaining length and girth as the hype trumpets? Well yes, in a manner of speaking. The penis pump can temporally inflate our cock to its maximum size, by increasing the amount of blood and other fluids that flow into the corpus cavernosa and surrounding tissue. Increased blood flow into the corpora cavernosa (see Part 1) via pumping can increase the girth of our cock, but can only add a minimal increase to length. In other words, it's easier to pump girth than it is to pump length. But alas, there is no reliable documentation of long lasting effects in either length or girth though pumping. A word to the wise, "male enhancement" can be had, so to speak, just as long as you don't expect it to last forever.
I know, I know, I can hear all you avid pumpers out there proclaim; "Hey Dr Dick, my dick is considerably bigger than it was before I began my pumping regiment." That may be true. All I'm sayin' is there's no scientific documentation of long lasting effects. Besides, can you honestly say that your "gains" will last? Or will they evaporate when you cease your pumping regiment, as others have discovered?
Everyone I know who has achieved significant gain in terms of both cock length and girth has done so by transforming their dick into a grotesque balloon lookin' thing. Don't believe me? Pictures of these disturbingly misshapen penises can be found online. The owners of these monstrosities, the pump-crazed crowd, pride themselves in their freaky creations. Their cock and balls only faintly resemble their original naturally-given package. And they've altered not just the dimensions of their cock and balls, but the skin texture as well. These men are also less likely to be able to get it up without a pump. But, let's not get too far ahead of ourselves.