A Handy-Dandy Guide to Penis Pumps: For Men
Part 1 - Your Cock; A Complete Owners Manual
Structure of Penis Shaft
Poll results

Cut? Uncut? Happy about it?
Part 1
Your circumcision status.
Total voted: 100

Poll results

Cut? Uncut? Happy about it?
Part 2
How do you feel about it?
15%

(15)

15%

(15)

15%

(15)
Total voted: 100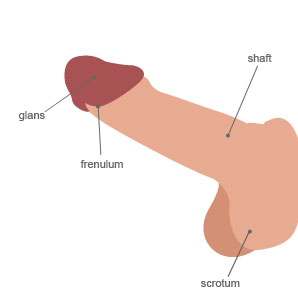 Structure of Penis Shaft
The head of your dick is called the glans. (It's the thing that can be shaped like a mushroom or a helmet.) It is made up of soft tissue called the corpus spongiosum. Just below the glans, on the underside of your cock is a waddle of skin called the frenulum. This puppy is chockfull of nerve endings that make it breeding ground for dick-centered pleasure.
All uncut (uncircumcised) men have a prepuce, or foreskin that covers and protects the glans. Cut (circumcised) men don't have one because it has been removed. If you are lucky enough to be intact, your foreskin is a specialized, sensitive, and functional organ of touch. No other part of the body serves the same purpose. Circumcision actually removes 50% of the skin from a guy's dick.