A Handy-Dandy Guide to Penis Pumps: For Men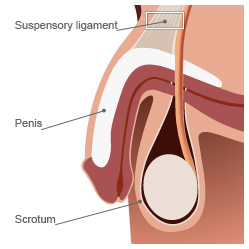 I want to call your attention to one thing about our anatomy that I haven't yet talked about: the suspensory ligaments. These ligaments attach your dick to your pubic bone; holding it in place and close to your body. They also support your johnson when it's erect. I bring this up now, because these ligaments can be stretched, which will cause a modest lengthening of one's cock. And pumping as well as weighted pumping (as mentioned in Part 3) can cause this to happen.
As an aside, there is a surgical method of "male enhancement" that severs these ligaments allowing the root of a guy's dick to drop forward and extend out, creating the illusion of a longer cock. But for the most part, the lengthening is just that, an illusion. A guy's limp dick may appear longer, but the surgery cannot affect the length of his hardon. In fact, there is a real danger that, if the patient doesn't scrupulously attend to a regiment of penis stretching exercises after surgery, the severed ligaments will actually heal shorter than they previously were and all "gains" will be lost. Sounds risky and expensive; and it is!
So we know that the more one pumps the greater the pumper's cock will develop in terms of girth. This girth development will also slowly stretch the suspensory ligament and his dick will hang slightly lower. Does this mean he's actually added length to his cock through pumping? Not really, not any more than the surgical technique mentioned above would do.
Ok, remember the ancient practice of jelqing I mentioned way back in Part 2? The Jelq involves massaging and stretching one's semi-erect cock in a rhythmic and regular manner; enhancing blood flow within the shaft. The claim is that after several months of this, one can see a size increase; both in girth and length. As it turned out, this age-old method of gentle massaging and pulling is actually a manual means of stretching the suspensory ligament. Building on this technique, pumping buffs have devised a way to pump and stretch the suspensory ligament simultaneously! What clever lads!