LoveHoney Supersex anal lube - Lubricant from LoveHoney

Supersex anal lube videos
Product Details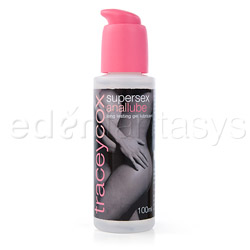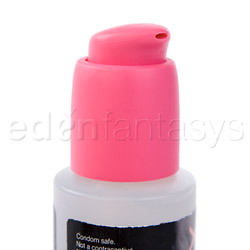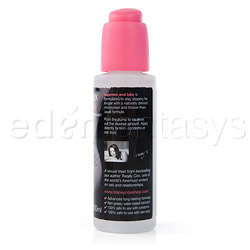 Summary:
A good, solid lube for anal play. Supersex lube is thick and rich, non staining, stays put, is easily applied and provides a good amount of slipperiness - a must for good anal sex. It's easily washed away, non drying and works equally well for other types of sex, including masturbation and hand jobs, making it very versatile.
Pros:
Long lasting, thick, non sticky, non drying, pump top.
Cons:
A bit of a chemical taste and smell.
Best use:
Supersex anal lube is a thick, rich, non sticky, long lasting lube that, while excellent for any time you may need lube, really shines when it comes to anal penetration. It remains slick for a good, long time and is plenty thick enough to really coat sensitive anal tissues.

It also held up very, very well for hand jobs, exceeding the staying power of most water based lubes.

This lube does contain glycerin, however, as well as a host of other ingredients so care should be taken if you're sensitive to any of those ingredients.
Texture / Consistency / Thickness / Viscosity:

This lube is very nice and thick while still being clear and non staining. It's texture reminds me quite a bit of hair gel and when you squirt a dollop out it stays in place for a good, long time without running.

It feels quite a bit more slick than I expected it to; a small amount was plenty and despite it's thickness it spread easily and lasted a long time. There is no greasy feel, just a cool, slippery wetness that coats nicely. It does dry just the slightest bit sticky but is easily wiped off with a damp washcloth or wet wipe.

Base:

Water

Ingredients:

Aqua, Glycerin, Sorbitol, Propylene Glycol, Hydroxyethylcellulose, Diazolidinyl Urea, Iodopropynyl Butylcarbamate

Color:

Clear

Taste / Aroma:

Supersex Anal Lube smells a bit like an 80's hair product to me; slightly chemically. It tastes the same way it smells. Pretty much like Aqua Net or Dippity Do. It's definitely not the lube you want to use if you're going to be doing any oral pleasuring in between your penetration.

Performance:

I'm not a huge fan of water based lubes for anal sex, preferring silicone. However, this one lasted an outstanding length of time and totally coated things to provide a slick, easy penetration. I would definitely recommend it.

It's also performed beautifully with my silicone anal toys, which is something my silicone lubes can't do.

It works great for any other purpose you'd use lube for, as well, though it stands out in it's intended use for anal play.

Safety features:

L-Arginine free

Packaging:

Supersex lube comes in a white plastic bottle with a pink pump top. The pump top is HUGELY convenient for application though less so for travel. It does twist and lock closed but not always perfectly.

The bottle itself has a black .white photo of a nude couple as well as pink and white text so it's possibly not the most discreet packaging anywhere. Anyone who picks it up is clearly going to see that it's anal lube