Westridge Laboratories ID stimulating gel mild - Clitoral gel from Westridge Laboratories

Product Details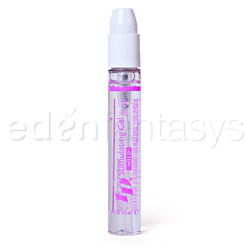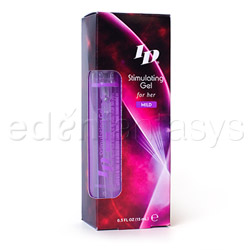 Summary:
If you are looking for a warming/stimulating gel that increases female arousal, but is gentle enough for beginners or those very sensitive to warming creams- this could be it! The Mild formula is an excellent lubricant that makes your lady-bits slippery during foreplay, while adding that oomph that helps get and keep you aroused.
Pros:
Easy to use dispenser, mild formula appropriate for most users, lubricating, long-lasting formula.
Cons:
May not provide enough stimulation for some, not organic, contains parabens.
Best use:
The best use for ID Stimulating Gel Mild is to increase arousal via the clitoris and to create a unique warming sensation that enhances foreplay and masturbation. Mild comes in a 1/2 oz clear tube with purple writing that identifies the product. The white cap is a push-pump dispenser that makes it easy to use, even one-handed, conveniently dosing out a pea-sized drop of gel that is generally enough for one application.
Texture / Consistency / Thickness / Viscosity:

Mild is a true clear "gel" that comes cleanly out of the dispenser and creates a pooled half-pea of liquid that is not at all runny. In this aspect, Mild doubles as a lubricant that helps fingers rub easily over the clitoris. The lubricant action maintains itself well in use, keeping things slippery without the need for constant reapplication or use of additional products.



The formula is non-staining, and is undetectable if accidentally spilled onto sheets or other materials. The gel does not feel at all greasy in use and dries non-sticky on the skin, leaving skin feeling "clean" after use, rather than in need of an immediate shower.

Base:

Water

Ingredients:

Water, Glycerin, Ethoxydigycol, Hydroxyethylcellulose, Passiflora Incarnata Flower Extract, Coryanthe Yohimbe Bark Extract, Panax Ginseng Root Extract, Lepidium Meyeni, Turnera Aphrodisiaca Extract, Citric Acid, Flavor, Niacin, Methylparaben, Potassium Sorbate, Sodium Benzoate, Stevia Rebaudiana Extract, Vanillyl Butylether.

Color:

Clear

Taste / Aroma:

The scent of Mild is very gentle and only detectable when held directly under the nose. The aroma is light and reminisce of artificial sugar, slightly of peppermint... and perhaps, vanilla? And Mild tastes pretty much the way it smells. While it is not designed to be tasted, should your lips happen to sample a small amount left on the skin, it is not overly strong in taste. However, putting any larger of an amount in your mouth will lead to a strong taste that is both bitter and artificially sweet.

Performance:

Approximately one squirt is all that is really needed from this gel. The thickness does keep the clitoris and surrounding areas plenty slick for foreplay, though a second lube for penetration may also be desired. The warming sensation is mild and causes a gentle tingle during use. The effects start to take place within around 20-30 seconds and last for around 5 minutes. This makes this gel ideal for those who are looking for an extra boost that will increase blood-flow and arousal, or just make foreplay or masturbation sessions a little extra fun. Through the effects are not long-lasting, this too may be ideal for those who are sensitive or easily overwhelmed by stronger portions. Unfortunately, the warming and tingling sensations are only felt on the clitoris, as other sensitive areas (like the nipples) are not quite sensitive enough to feel the full effects.

Safety features:

L-Arginine free

Special features:

Aphrodisiac
Moisturizer
Tingling sensation
Warming

Packaging:



The box that Mild arrived in features deep swirls of reds, pinks, purples and black with a white ID logo and the words "Stimulating gel for her" written on the front. Directions and the ingredient list are found on the back. There is a clear plastic portion that showcases the Mild tube, though the box was approximately 5x larger than the tube of gel itself. The gel is held in the corner with an extra piece of cardboard, and the rest of the box contains two samples of other lubes from the manufacturer. One is ID Glide water-based lube, the other is ID Millennium silicone-lube. (Remember that silicone lubes should never be used with silicone toys.)



While the packaging is not discreet, it is not "loud" either. It is both sexy and feminine, and could be easily packaged for gift-giving or adding to a home-made gift-basket. Keeping the box for storage is not likely as it is so much larger than the products itself, but storage is not really needed as the tube is self-contained in its own right.

Volume:

0.5 fl.oz.

Weight:

1.7 oz

Special Features:

There are a whole host of ingredients listed on the back which I have very briefly given uses for:

Aqua- water, adds moisture
Glycerin- humectant that adds moisture to skin and creates sweet taste
Ethoxydigycol- decreases viscosity
Hydroxyethylcellulose- gelling and thickening agent
Passiflora Incarnata Flower Extract- protects and conditions skin, adds flavoring
Coryanthe Yohimbe Bark Extract- sexual stimulant and libido increaser that works by increasing blood flow to erectile tissues
Panax Ginseng Root Extract- stimulant that increases sexual arousal
Lepidium Meyenii- balances hormones and normalizes testosterone levels, stimulates genitals
Turnera Aphrodisiaca Extract- blood vessel dilator, sexual enhancer
Citric Acid- preservative, adds sweet and bitter taste
Flavor- ummm, adds flavor?
Niacin- vitamin B3. Stimulates microcirculation to create a warm or tingling sensation while nourishing and stimulating nerve endings
Methylparaben- anti-fungal and preservative
Potassium Sorbate- potassium salt of sorbic acid, a naturally occurring antimicrobial compound; used as a preservative
Sodium Benzoate- antimicrobial, preservative, adds bitter taste
Stevia Rebaudiana Extract- artificial sweetener
Vanillyl Butylether- alternative to vanillyl alcohol that causes mild warming sensation

(The above descriptions are only a very brief record of my findings of the ingredient information, not a full disclosure, nor were they provided/verified by the manufacturer.)

Some of the above ingredients may be of concern to certain individuals who are sensitive or have a history of allergic reactions. However, none of the above ingredients have been considered by the FDA as unsafe for use by humans, and are generally considered safe for consumption in small amounts.