Westridge Laboratories ID stimulating gel wild - Clitoral gel from Westridge Laboratories

Product Details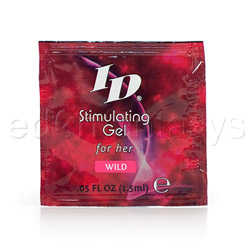 Summary:
ID Stimulating Gel Wild is a gently warming, thick, water based gel that is perfect for direct clitoral massage in order to jump start arousal. The warming sensation passes quickly, but it's a very slick lube.
Pros:
Nice pump top, pleasant warming sensation.
Cons:
Just a glorified glycerin based lube, and a very small portion.
Best use:
ID Stimulating Gel Wild is intended to be used as a pre-foreplay aperitif, a little treat to get things rolling or kickstart a lackluster set of genitals those times when your body is feeling slow to respond. It is chalk full of glycerin, so it's not intended to be used as a lube, just as a topical gel for rubbing and a light warming sensation. Unlike most other stimulating gels and potions, this concoction does not include L-arginine (which gets attention due to false beliefs about topical application leading to tissue swelling) or any cooling ingredients such as menthol. Instead, ID stimulating gel wild includes glycerin, which gets a little warm when rubbed onto skin, but is also a problem ingredient for women who are prone to yeast infections if it gets into the vagina (which explains why this is a stimulating gel, not a lube, despite the fact that it looks and feels like lube). This product makes a great lube to use for gentle clit manipulation with fingers, and when used in this manner it certainly *is* stimulating, as is the case when you rub something slippery directly onto your clit.
Texture / Consistency / Thickness / Viscosity:

This gel is thick, which is really to be expected because mixtures of glycerin and water that contain enough glycerin to have that lovely warming characteristic are pretty thick, bottom line. This product cuts through the thick stickiness of the glycerin with two other ingredients (ethoxydigycol and hydroxyethylcellulose) that allow that stickiness seen in some glycerin concoctions to be smoothed out, and to let the gel dry to a softer (although still somewhat sticky) residue. The gel's consistency means it stays where placed, but it does melt and thin and dribble as it mixes into natural fluids and as it warms to body temperature.

Base:

Water

Ingredients:

Water, Glycerin, Ethoxydigycol, Hydroxyethylcellulose, Passiflora Incarnata Flower Extract, Coryanthe Yohimbe Bark Extract, Panax Ginseng Root Extract, Lepidium Meyeni, Turnera Aphrodisiaca Extract, Citric Acid, Flavor, Niacin, Methylparaben, Potassium Sorbate, Sodium Benzoate, Stevia Rebaudiana Extract, Vanillyl Butylether.

Color:

Clear

Taste / Aroma:

Like most glycerin containing products, this gel tastes fake and sweet. Because of the mixture of extracts in it, it has a medicinal taste that is reminiscent of bitters, or some really funky herbal tea. It has no real aroma.

Performance:

The warming sensation dissipates quickly, because the gel isn't so much getting warm so much as it is simply warming to body temperature. Added friction will warm it slightly as well, but once the blood gets flowing in the area any residual effect can't really be noticed anyways. The gel contains all sorts of extracts of various medicinal plants that do various things like treat anxiety (passion flower, likely included because), enhance libido (ginseng, reportedly anyways) and a few that have seemingly legitimate 'libido enhancing' effects that haven't been attributed to anything quite yet (Lepidium Meyeni, Turnera Aphrodisiaca) and one that actually contains a compound that is a known libido enhancer (Coryanthe Yohimbe, contains yohimbine).

Now the thing is, there's no way there's much of any of those extracts in this blend, because plant extracts are *not* clear and colorless (they are, in fact, far from it), and this gel is clear and colorless. So the overall amount of plant extract that could be in there is low in the first place, and since there's five different things reportedly in the mix that means there's even less of each individual extract. Assuming that there is a chemical in the plant extract with aphrodisiac qualities, it's a very small percentage of the overall extract. As well, things like ginseng are supposed to be consumed to work as a drug - rubbing them on skin is going to be less efficient. Basically, there's no way these plant extracts could even conceivably translate into any sort of effect. So from this regard, the performance is disappointing.

The longevity of an individual application is pretty decent, but since this gel is basically like a lube its hard to imagine that the price per application is reasonable given that the concoction is not anything overly unique or special.

Safety features:

L-Arginine free

Special features:

Aphrodisiac
Moisturizer
Tingling sensation
Warming

Packaging:

This product comes in a tall thin cylindrical bottle with a nice pump top. It's tippy and won't stay standing up on a headboard or bedside table, but hey, maybe it's not meant to be.