Intimate Organics Intense - Clitoral gel from Intimate Organics

Product Details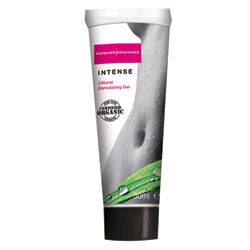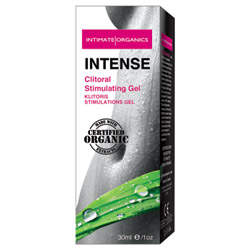 Summary:
It did stimulate some just not as much as we thought it should for how it was advertised. We will use the product again because it did bring about orgasms.
Pros:
Paraben free, easy to use, didn't run.
Best use:
This product is advertised as a clitoral gel we have used it on my wife's clit it does excite some but not that intense as advertised. We also tried some on her breasts it made her nipples perk up at attention. My wife has tried it solo with about the same results with and without toys. We have also tried it during intercourse same results. I tried it solo myself it did stimulate my cock some but wasn't that intense. It works best when you apply it and then wait about 2 minutes and will last for about 10 minutes or so.
Texture / Consistency / Thickness / Viscosity:

It is a clear liquid and when applied it stays in place quite well. When you put it on your fingers and rub them together it feels creamy not sticky or greasy. When you apply it you have to squeeze it out you can turn the tube upside down and it won't run out. I wouldn't call it thick but it is kind of like a gel somewhere in between liquid and gel consistency. Some products like this have felt cold when applied but this one didn't have that effect.

Base:

Water

Ingredients:

Aqua (Water), Propanediol (Natural Humectant), Aloe Barbadenis Leaf Extract, Polysorbate 20, Hydroxyethylcellulose, Phenoxyethanol, Mentha Arvensis Leaf Oil, Hamamelis Virginiana (Witch Hazel) Extract, Benzoic Acid, Arginine-HCI, Phenethyl Alcohol, PPG-2 Methyl Ether, Methylisothiazolinone, Ornithine HCL, Menthyl Lactate, Alcohol, Lycium Barbarum Fruit Extract, Cymbopogon Schoenanthus Extract, Aloe Barbadensis Leaf Extract, Sodium Hydroxide.

Color:

Clear

Taste / Aroma:

The smell wasn't overpowering like some other products it had a little smell of peppermint. When I applied it to my wife's clit and then perform oral on her it didn't taste that bad although I could have done without the witch haze. The peppermint taste did make it taste better. My wife noticed the peppermint taste also when I kissed her. The taste went away fairly quickly but it is not something I would suggest for male oral sex.

Performance:

We wanted to try it because we like to use products that are vegan and as organic as possible and that are paraben free. It seems to last for it intended purpose through what ever type of sex or play you are doing. Every time we have used it during sex or solo it has resulted in an orgasm. It disappears after without you having to wash it off it just blend into your skin. When I did apply it to my wife's breasts her nipples stayed hard and erect for about 10 minutes, she said they did feel cool but not cold. I think we would have been fine with the product if it had not been advertised as intense. We were expecting something more over the top than what it was. We would probably buy this product again because we know how it works and like several of the other Intimate Organics products.

Safety features:

Paraben free

Special features:

Packaging:

The package was the same as other products by this company it came in a box with a description of the product and use. Inside the box was the plastic tube that it was packaged in with their logo on it and a description for use also on it.

Volume:

1 fl.oz.

Weight:

0.1 lb