Summary:
Volt supplies a warming sensation, plus a lightly cool tingle, to the clitoral area and G-spot. Each capsule lasts through at least two applications, depending on how much you use. They store easily and are spillproof in their specially designed box. It is unnecessary to remove the capsules from their tray for use. Easy to store, easy to customize the level of sensation you desire, and a pleasant taste and aroma: System Jo deserves a round of applause!
Best use:
System Jo set out to design a clitoral stimulation gel that would not only increase sensitivity of the clitoris and the surrounding tissue, but also give a tingling sensation. This product is purportedly "created for women by women" and it does exactly what it is supposed to do!
The 12v is the highest level of the three level system, and I would recommend using this one if you are pretty sure other products haven't produced the level of sensation you are looking for. This product hits hard and could be a bit much for more sensitive clitorises. If you are lucky enough to have an easily accessible G spot, this can be a very interesting, if a bit intense, gel to increase sensitivity.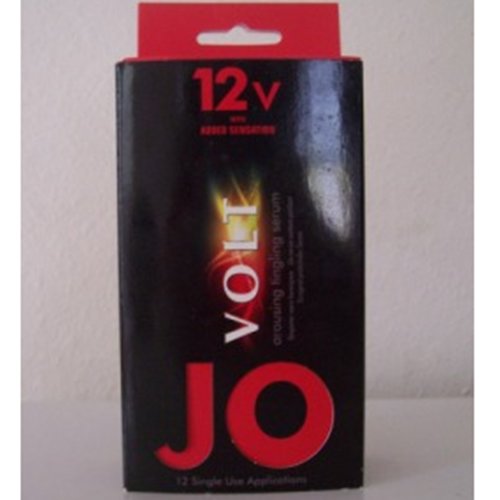 The product contains no L-Arginine or Parabens and should be fairly unlikely to excite an allergic reaction in most users. It has a light fragrance and doesn't leave an unpleasant taste in the mouth, though it can leave a slight warmth and tingling feeling.
Texture / Consistency / Thickness / Viscosity:

Volt is a thin oil that comes packaged in a gel capsule that you twist apart to get to the oil.

The oil will run everywhere, and it is not necessary to remove the capsule from the cardboard box it sits in. This will ensure you don't squeeze the capsule and have a mess on your hands. The texture of the oil is silky, and it rubs into the clitoris easily but not fully, like other products I have tried. it is impossible not to get the oil on the labia and possibly even inside the vagina. It's perfectly safe to do so and feels quite intense once it begins to activate. In fact, you can use this to stimulate the G-spot if you are lucky enough to have a spot that is easily reached!

This oil feels slippery, not greasy, and very light instead of heavy. All in all, it was pleasant before it began to activate and more so after!

Base:

Oil

Ingredients:

Oley Alcohol, Zanthoxylum Bungeanum (Prickly Ash Bark), Olea Europaea (olive) Fruit Oil, Eclipta Prostrata Extract, Melia Azadirachta Leaf Extract, Moringo Pterygosperma Seed OIl, Melia Azadirachta Extract, Amino Esers 1, Eclipta Prostrate Extract, Lawsonia Inermis Extract, Ocimum Sanctum Leaf Extract, Corallina Officinalis Extract.

Taste / Aroma:

This oil smells very pungent but not unpleasant or overpowering. It has an herbal scent that has citrus undertones. The scent doesn't cling and washes easily away with soap and warm water. I quite liked the scent though, at first, I was concerned that it smelled almost antiseptic. As the scent lingered I began to smell the aromatics and it was fine. It reminds me of an herb garden or a pine clearing.

The taste is almost not there, it's hard to describe. You know it's oil and there's a bit of a warmth and tingle on the tongue, but I could most heavily smell/taste my own unique fluids. it is not at all unpleasant, unless you really hate your lips and tongue tingling for a bit. It certainly tastes nothing like I was expecting after smelling the stuff!

Performance:

The package gives the instructions for use as: "apply a few drops to intimate areas". Now I am all for being discreet, but I really do wish System Jo had put a bit more thought into the instructions. Apply to the area surrounding the clitoris or the G-spot would have been more accurate and lots more helpful.

At any rate, you are supposed to then wait for 3-5 minutes to experience any sensations. I found this to be very accurate. I also found out that with this level of the product less is DEFINITELY more. I ended up putting too much oil on the first time and it wasn't quite painful, but it was mostly unpleasant. The second time I used much less and it was amazing. Incidentally, both applications came from one gel cap and there is still more for another play time!

I did find that I used a bit more of the product on my G spot without any of the unpleasant problems I had when I slathered it on my clitoris. I am thinking a less powerful level of the oil might be in my best interest for clitoral use. My G spot isn't hard to find or stimulate, but it took a bit more product to get any reaction there. Possibly, it was because my fluids were getting in the way.

Though this isn't a lube, it didn't cause unpleasant sensations for my partner during PIV sex. We didn't use a condom and he could feel greater warmth and a bit of a tingle, but nothing unpleasantly so. He did not think it would be enough to cause a premature ejaculation problem, but it was a bit different, and nice. This is an oil based product and, while it's not meant to be used as lube, it does get all over. I cannot be certain it is condom safe with latex condoms. Natural Lambskin would be fine, but those will not protect you from disease, just pregnancy. You could spot test a spare condom, I suppose, but then again you could just use this when you aren't planning on having PIV sex with a condom!

The product is supposed to last for about 45 minutes and that is actually spot on, as the initial trial lasted about 50-55 minutes and the second was just under 40 minutes. I used less the second time, significantly less that recommended, so the time was a bit less. It can be reapplied as often as you like, and if reapplied it works faster, or so it seems to me.

I didn't feel the need to wash the oil off, as after the sensations died down there was no stickiness or irritating residue left from the oil. In the interest of a thorough review, I did wash off in the shower after the second time I used the oil, and it washed cleanly away without leaving an oily feeling behind.

When I used less of the product on my clitoral area than is recommended, I really enjoyed how it heated up the whole area and left a mild menthol tingle. It wasn't overwhelming, the tingle, but combined with the heat it woke up my senses quickly, and my orgasm was powerful and prolonged. I didn't have the incredible oversensitivity after orgasm that sometimes makes it hard for me to enjoy a bit of stroking, and it did enhance the experience of both solo and partnered play.

When I used the recommended amount the heat was almost painful, and the menthol tingle was just short of unpleasant. It increased post orgasm sensitivity, and I was left just wanting to wash it off.

On my G spot I found that I needed to use a bit more product than I like to use on my clit. Not a ton more, but the sensations were very different. Instead of the incredible heat, I was able to feel the menthol tingle more readily. Any rubbing against the area was very intense, and I found I didn't need a whole lot of pressure to bring on orgasm. I also found that I didn't squirt like normal, but the sensation that normally feels like I need to was missing. It was like the sensation from the oil overpowered the lighter sensation of the squirting reflex. Odd, but there you have it!

This oil didn't stain my bedclothes but it could stain silk or satin sheets. My cotton sheets washed clean and didn't have oil spots afterwards. I would suggest a towel or throw if you are worried.

Safety features:

Glycerin free / L-Arginine free / Paraben free / Petro-chemicals free

Special features:

All natural
Tingling sensation

Packaging:


The first picture shows the outer sleeve and this picture shows the red inner box that actually holds the gel capsules.

This last picture shows how the capsules are held in the inner box. They are very secure and protected. The capsules do not need to be removed from the box to be used.

The packaging is attractive, sleek, and fairly discreet. All lettering detailing what the product actually is is in a muted grey against a black background. From a distance there's no telling what it could be!

I am not sure if I would recommend trying to carry this in your carry on luggage, but certainly it could safely be packaged in your checked luggage. If you are not going by airplane then putting it in your purse would be fine. It won't fit in an evening bag sized purse, but a capsule would. The capsules are tough and unlikely to break open without excessive force. You have to use a bit of force to twist off the top of the capsule as well.

Special Features:

The ingredient list for those who are curious: Oley Alcohol, Zanthoxylum Bungeanum (Prickly Ash Bark), Olea Europaea (olive) Fruit Oil, Eclipta Prostrata Extract, Melia Azadirachta Leaf Extract, Moringo Pterygosperma Seed OIl, Melia Azadirachta Extract, Amino Esers 1, Eclipta Prostrate Extract, Lawsonia Inermis Extract, Ocimum Sanctum Leaf Extract, Corallina Officinalis Extract.

Personal comments:

I usually don't have much trouble with tingle gels and products meant to increase sensitivity, but I am quite sensitive in that area normally. I would recommend not using this expecting rockets to go off, but more with the idea that it will increase sensation and provide a bit of a tingle. Once I dropped off birth control pills I found that my normal sensitivity returned, but damn I wish I had had access to this when I was having issues!