System JO JO 9v volt - Clitoral gel from System JO

Product Details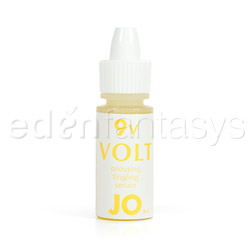 Summary:
If you are new to products that create a tingling sensation, the 9v Volt is an awesome introduction. Simply applying a few drops to your naughty bits is all you need to do to jump start the divine tingles. The bottle only contains 5ml, but that will last you a long while. This product contains no L-Arginine or parabens.
Pros:
Tingling sensation, long lasting, safe to reapply during longer sessions, good smell, no taste.
Best use:
The JO 9v Volt is self-labeled as an arousing tingling serum. It is intended for women to use on any of their naughty bits. It creates a tingling sensation all over the applied areas and lasts for quite some time. You can use the 9v during foreplay, sexual encounters, or solo play. I could also see this being an awesome tool for teasing your female lover.

The 9v from the JO's Volt line is the medium strength, and is best suited for those with moderate to no experience with tingling ointments. During your initial use, only use 1 or 2 drops to see how you like it. This product can be reapplied, but even after washing the tingling will remain.
Texture / Consistency / Thickness / Viscosity:

The 9v Volt is very thin and runny. When squeezing some out you should be very careful, since it is thin to this degree. It would be easy so squeeze out too much and make a mess. This runny liquid is clear, yellow, and feels oily and slick on the skin. Since this stuff is oil based, it makes a lot of sense that it would feel this way. It stays very oily until it starts to dry up, which takes about 20 minutes. Even then, after it has dried, your skin still feels very slick and even a bit greasy.

Base:

Oil

Ingredients:

Oley Alcohol, Zanthoxylum Bungeanum (Prickly Ash Bark), Olea Europaea (Olive) Fruit Oil, Melia Asadirachta Leaf Extract, Azadirachta Flower Extract,Coccina Indico Leaf Extract, Solanium Melongeno (Eggplant) Fruit Extract, Aloe Barbadensis Flower Extract, Lawsonia Inermis (Henna) Extract, Ocimum Sanctum Leaf Extract, Ocimum Basilicum (Basil) Extract, Curcuma Officinalis Extract, Simmondsia Chenensis (Jojoba) Seed Oil

Taste / Aroma:

This arousing serum has a very clean smell. The most predominant smell is lemons, but it does have pine undertones. The smell of this product can be smelled when sniffing the bottle itself, or when sniffing your fingers or applied areas. The smell is not strong enough, however, to be smelled when you are not sniffing those areas.

This serum has no taste at all. It does make your tongue feel a bit oily, and does give the tongue a slight tingling sensation.

Performance:

The 9v Volt is the medium strength of the Volt from JO products. To someone who hasn't used many tingling products, the medium strength is rather intense. The packaging states that it takes 3-5 minutes to start feeling the effects, and that was a true story. After 5 minutes my naughty bits did start to tingle, and as the time passed it did intensify. The packaging also states that it will last for 45 minutes, but I noticed that it starts to wear off before that, at around 30 minutes. It is safe to reapply if it starts to wear off before you are finished playing.

You will require soap and water to remove the leftover greasiness from your skin. Even after it is removed from your skin, the tingling sensation will remain.

Safety features:

Glycerin free / L-Arginine free / Paraben free / Petro-chemicals free

Special features:

All natural
Tingling sensation

Packaging:

Your small bottle comes to you in a small yellow and shimmery black box. The black portion is clearly labeled with exactly what's inside. The rear panel of this portion has the perks of the product, directions, and a warning about if irritation occurs. The back panel also includes the ingredients list and contact information for System JO products. This black portion slides off to reveal a yellow box. This yellow box is plain, except for a bar code on the bottom portion and "Meet your new best friend" printed on the front and back. The front panel of this box lifts open to reveal your little bottle of 9v Volt.

Your 5ml of 9v Volt comes in a 2 1/4" clear bottle with a white lid. The clear bottle has a white sticker with yellow writing that wraps almost entirely around the bottle. The front portion of the label states the product's name and use. To the left is again the contact information for JO and the same list of ingredients from the box. I have had no issues with the bottle leaking, and the lid seems to screw on securely.





The box and bottle are both recyclable, and should be set out as such.