Love To Love So fresh cool arousal gel - Clitoral gel from Love To Love

Product Details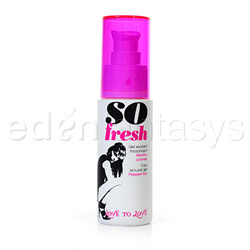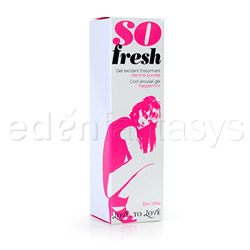 Summary:
Use this mild arousal gel to add a slight tingle to your sexual fun by rubbing a small amount on the erogenous zone of your choice. This easy to use product offers subtle sensations suitable for those who find most arousal products too harsh.
Pros:
Easy to use, not too harsh, very light taste, easy to wash off.
Cons:
Some may not like the peppermint smell, may find the effects too mild, contains glycerin.
Best use:
Unlike the usual "for external use only" warnings common on so many packages, the information included with So Fresh Cool Arousal Gel states that this product is for both internal and external use: vaginal, oral, and anal. It provides a light cooling, tingling sensation that adds a little something extra to the experience, without being too over the top.

This product does contain glycerin, which is known to cause a reaction in some people.
Texture / Consistency / Thickness / Viscosity:

This is a clear gel that glides across the skin it is applied to, making it easy to spread over a small area. It is a bit sticky after it starts to dry, but is easily washed off afterwards. The gel is dispensed from its bottle via pump, with one pump providing enough for the average use. This product is similar in thickness to hair gel or shampoo; it will run a bit if squirted onto the skin, but mostly stays within an inch or two of the place it is applied.

Base:

Water

Ingredients:

Aqua, Propylene Glycol, Glycerin, Peg-40 Hydrogenated Castor Oil, Alcohol Denat., Benzyl Alcohol, Carbomer, Sodium Citrate, Hydroxethylcellulose, Mentha Piperita Oil, Dehydroacetic Acid, Citric Acid, Limonene.

Taste / Aroma:

This product is peppermint scented, and the scent is moderately strong right out of the tube. It fades a little once applied to the skin, but is still definitely noticeable for a few minutes. If rinsed off, there is almost zero lingering scent. Despite the clear peppermint smell, there is very little taste to this product.

Performance:

Compared to most arousal gels, the effects of this product are quite mild. There is a slight cooling and tingling sensation with use, but it's more of an "icing on the cake" effect than a main event. Adding an extra squirt does not seem to enhance the strength of the product. Those looking for a strong sensation may not be pleased, but users seeking a little something different, or those that find most products too harsh, may find this to be a perfect solution. The cooling and tingling effects continue for several minutes after application, but less than half an hour.

This product is water based, so use in the tub or shower will most likely not provide much in the way of results. However, it is compatible with condom use.

Safety features:

L-Arginine free / Paraben free

Special features:

Packaging:

At a glance, both the gel's tube and the box it comes packaged in look like any other personal care product. The words "Cool arousal gel" are in fairly small print, so unless someone is looking closely at the packaging, it's not overtly obvious what this product is used for. The bright pink cap does draw some attention, but the packaging is otherwise quite simple.

A small informational paper insert is included in the box, which displays images of other products by the same company on one side, and a few brief paragraphs of instructions and info on the other.

Volume:

1.6 fl.oz.

Weight:

2.8 oz

Experience:

This is one of those products that will be a different experience for everyone depending on your anatomy and sensitivity level, as well as plain old matters of preference. Personally, I found it to be fun when you want a little extra spice but aren't in the mood for anything with a major kick. It's a product I'll probably reach for from time to time, but not a must have for everyday use.