Hustler Dr. Flynt's stroke and repeat - Lubricant from Hustler

Product Details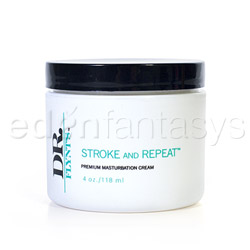 Summary:
When you need some lotion to help with the 'motion', reach instead for a tub of Dr. Flynt's Stroke & Repeat masturbation cream. This unscented, non-greasy masturbation cream won't make a mess on its own and eases the friction during extended stroking sessions. It's economical too, because a little bit goes a long way.
Pros:
Lightweight, non-greasy, unscented, a little goes a long way.
Cons:
Expensive, contains parabens, claim to be "warming" is questionable.
Best use:
C'mon fellas, don't you want the best possible for your 'best friend'? If you care about him enough, you'll treat his swelling with a dose of Dr. Flynts (tm) Stroke and Repeat PREMIUM Masturbation Cream from Hustler toys. This product has just the right amount of slickness to ensure a perfect session every time, without dribbling all over the place like some runny lotions or lubricants tend to do. A woman could possibly use this too, if just for clitoral stimulation with a toy. It claims to be warming, but it's difficult to tell from the initial application, since any type of continued (manual) friction will naturally create warmth.

This product is primarily marketed for "rubbing one out" and should not be used as a penetrative lubricant and/or with latex condoms. It is not a contraceptive, meaning it contains no spermicide. As mild as this product is, it still contains some products to which certain individuals may experience sensitivities. Discontinue use immediately should this occur.
Texture / Consistency / Thickness / Viscosity:

The texture of this product is sublime: velvety/borderline silky, lightweight, and not runny whatsoever. It's white in appearance, becoming a clear sheen with each stroke. Do not mistake 'sheen' for being greasy, as it's far from that and has just the right amount of slickness to it to make it almost perfect. Additionally, it doesn't necessarily have to be washed off the skin after the 'big event' occurs, because it will eventually absorb, leaving the penis and hands gently moisturized.

Base:

Water

Ingredients:

Water, Ethylhexy Palmitate, Stearyl Alcohol, Cocos Nucifera (Coconut ) Oil, Prunus Amygdalus Dulcis (Sweet Almond) Oil, Cetearyl Alcohol, Ceteareth-20, Cetyl Alcohol, Glycerin, Dimethicone, Tocopheryl Acetate (Vitamin E), Aloe Barbadensis Leaf Juice, Carbomer, Tetrasodium EDTA, Triethanolamine, Methylparaben, Propylparaben, Imidazolidinyl Urea

Taste / Aroma:

It's 100% unscented, so put that offensive cocoa-butter smelling stuff away! It's non-edible; however, there really is no taste to it either, should a partner decide to switch from handjob to blowjob mode.

Performance:

There's enough product packed in to the 4-ounce jar to provide for numerous masturbation sessions, since not much product is needed to begin with, nor is re-application necessary more than several times, unless you are the type of person whose sessions last well beyond 10 minutes. How long the product lasts is all going to be relative to how often you masturbate and how long it takes you to do so. Although the cost seems high, it's a good value if it lasts you a couple of months.

Other than cleaning up bodily fluids, the product does not have to be immediately washed off the skin, but if you wish to do so warm water and soap will do the trick.

Safety features:

L-Arginine free

Special features:

Packaging:

The product only comes in a 4 ounce plastic container with a screw on lid. Because of the thick consistency of the product, it will not leak out and will travel nicely. The white jar is neutral looking, with just the name on the front, so it won't stand out like a sore thumb in a bedroom or bathroom.

Volume:

4 fl.oz.

Weight:

0.35 oz

Personal comments:

I was ready for bed, so I gave the jar of this to my partner and told him to "knock himself out" and give me a full report in the morning. He told me that he really enjoyed using this product, that it stayed just slick enough, and he only had to re-apply a little extra just one time in his usual 15-20 minute session. The package says it changes to a warm, slick sheen; however my partner said there is no warming sensation to this, other than what is created by the friction of the rubbing. He said he would purchase this again and he figures that with his usual masturbation sessions (2-3 weekly), it should last him a couple of months.