Evolved Jack aide thin density - Lubricant from Evolved

Product Details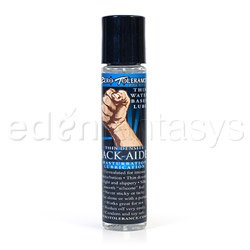 Summary:
While not the greatest for vaginal and anal sex, this lube is great for those self service situations; in fact, that is where this lube excels at. This lube may not last the longest, but it should last you long enough to get you through a quickie. This is a good water-based lube that will work for a ton of different sex toy materials.
Pros:
Compatible with a lot of materials, scentless and tasteless.
Cons:
Does not last long.
Best use:
Zero Tolerance's Thin Density Jack-Aid, is a wonderful water-based personal lubricant that works well with hand or sex toy. This lube is marketed as a masturbatory lube, but can be used for sex. Just as the label says, this is vagina safe, condom safe, and latex condom safe!

Here is an example of many sex toy materials this is compatible with:
TPE, TPR, CyberSkin, SuperSkin, PureSkin

Texture / Consistency / Thickness / Viscosity:

Jack-Aid goes on very silky smooth and is very thin. Thin as it is, it is still much thicker than water. Even though this is thin, it does not get tacky or sticky.

The Ingredients are as follows:
Glycerin, Purified Water (Aqua), Sodium Carboxymethyl Cellulose, Propyl Paraben, Methyl Paraben


Base:

Water

Ingredients:

Glycerin, Purified Water (Aqua), Sodium Carboxymethyl Cellulose, Propyl Paraben, Methyl Paraben

Color:

Clear

Taste / Aroma:

Unlike many other Lubes out there, this lube has neither a strong taste nor smell; in fact, it is scentless and mostly tasteless. What little taste there is not bad, but more than likely unidentifiable. Since this is virtually tasteless, it would make a decent oral lube; however, due to the thinness and consistency, it may not last long as such.

Performance:

Jack-Aid goes on very smooth and is very slippery. Just as the name describes, this is a very thin lubricant, which does affect its longevity. You may find yourself reapplying this once or twice during masturbation; although, you shouldn't have to reapply more than that.

Just as described on the packaging, this never gets tacky or sticky, but rather seems to absorb into the skin well (but not too quick). This also washes off every easy, just as the bottle says. Since this is so easily washed off, this would not be a lube that you could effectively use in the shower.

Due to the thinness, this lube would not be the best for anal use; in fact, it would make for a poor choice.

Safety features:

L-Arginine free

Special features:

Packaging:

The Jack Aid comes as a sealed bottle with a press to open tab. The bottle is not only very neat looking, but serves its purpose of keeping the lube inside without leaking or spilling. The lid is practically spill proof, perhaps to a fault. It can be a bugger at time to squeeze the lube out of the bottle, but you do not have to worry about a messy clean up.

The ingredients are clearly labeled, as are the main functions and directions. The blue and black color design is really cool, as is the gripping hand. The design gives off a more masculine feel.


Personal comments:

The greatest thing about this lube is purely its compatibility with different kind of materials, as well as its compatibility with condoms. Some materials, such as SuperSkin (The Fleshlight material), are very delicate, so much so that you can not even use soaps on them to clean; but this Lube is not abrasive and can be used in conjunction with materials of the like.

While this may not be the ideal anal lube, it does work well with vaginal sex. You may have to reapply, which can be a tad bit bothersome at times, but it does function fairly well.

This is a great sex toy lube and a hand lube, but it really is not great for sex. It works, but with having to reapply, it is best to look elsewhere; however, if you are looking for a material safe lube, then this is for you.