Pipedream Mia isabella personal lubricant - Lubricant from Pipedream

Product Details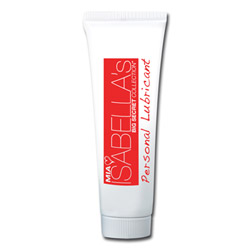 Summary:
Mia Isabella's Personal Lubricant is a waterbased lubricant that is safe to use with all types of toys as well as condoms. It is a lubricant that does not last long and becomes quite sticky within a short period. It is best used for lightly lubricating dry labia to keep them slightly hydrated. However it is not ideal for thrusting, anal play or hand jobs.
Pros:
Bottle is sort of discreet.
Cons:
Sticky, dries up fast, packaging might scare off beginners, ingredients not listed.
Best use:
It isn't quite obvious at first what type of lube this is, but it is indeed waterbased lube. It is therefore safe to use with all types of toys and it can be used for both vaginal and anal play.

This could be used to help ease penetration during sex or solo play with toys and it could also be used liberally to insert anal toys such as plugs. However, it works best simply hydrating the labia when they are dry.

Since it is waterbased it is unlikely to react with silicone toys or damage condoms rendering them ineffective. It doesn't have any tingling or heating properties to it. The ingredients of this product are unclear therefore it is difficult to decipher whether or not one may have allergic reactions to this product.

The Mia Isabella's personal lubricant is manufactured as a sex lubricant but in practice it is not ideal for this purpose.
Texture / Consistency / Thickness / Viscosity:

At first, the texture is smooth and it glides really well. It isn't sticky to start it feels really nice to rub in between the fingers and to stimulate the clitoris.

It is thinner than Maximus lube but it is not as runny as silicone lube. It does not stay put for very long after it has been applied to a particular surface.

It feels really good to start, almost like a woman's natural lubrication.

It is easy to squirt the amount you need from the tube by simply pushing until one has the desired amount.

Eventually, very quickly, it changes in texture and becomes sticky but doesn't create little lumps of lube residue on the labia or what ever is being inserted into the vagina, whether it's a toy or a penis.

Base:

Water

Ingredients:

Water based gel

Taste / Aroma:

It does have a very slight sort of chemically kind of smell. You must have a good nose to actually smell it or you have to have some really close to your nose.

It does have the signature taste many waterbased lubes have. A sort of sweetness but without any other defining taste. It is very light and not very distracting in use unless you do not enjoy anything sweet on your partner's genitals as you orally please them.

It really reminds me a lot of KY lubricant in the taste and the smell. Except that KY lube gets full of lumpy grossness: this hasn't gotten there so far.

Performance:

First impressions of the lube were marked by skepticism.

Once I started using the product I was pretty impressed with the texture and started to revise my skepticism. It was so slippery and my toy glided very well in and out of me and it made rubbing my toy on my clit a frictionless breeze. This lasted only 5 minutes.

After 5 minutes, the lube starts to dry up and becomes sticky, the more it becomes sticky the more there is uncomfortable friction. The toy gets sticky and the genital are also uncomfortably sticky. If you get some on your thighs it feels really gross when your thighs rub together.

Some say that using saliva will reactivate water based lube so I attempted to do this but even this could not save the lube. Adding saliva sort of reduced some of the friction but once it gets sticky it stays sticky, saliva won't bring it back to its initial texture.

It cleans off really well though. You simply need a damp cloth to wipe it off, or jump in the shower if you prefer. That is probably the only good thing about this product.

Packaging:

The lube comes in a tube similar to toothpaste but with a wide cap. The tube contains 1.5 oz of lube. The bottle has the logo of the product on the front and the name of the company, and the company address on the back and not much else. The tube itself is sort of discreet kind of appearing like a skin product except for the fact that it has personal lubricant written on it.

The tube comes in a box with a few pictures of Mia Isabella, a transsexual woman who hasn't undergone gender reassignment surgery, therefore leaving her male genitalia intact. She is kind of sexy and the product may appeal to many people but for those who prefer discretion, the packaging is everything but discreet. It might make some beginners uncomfortable.

The tube is good for travel but I would leave the box at home.

There is little instruction provided on the box. It is written that it doesn't get sticky and that it is long-lasting, which is true if you want a lube that lasts only 5 minutes. They suggest to apply the product to the man's penis or used for anal play and they also try to appeal to the beginner anal explorer.

Volume:

1.5 fl.oz.

Weight:

0.1 lb

Personal comments:

I have e-mailed the company in order to have a list of the ingredients for the lubricant. Once I receive a reply I will update the review to include this information.

Experience:

When I have used this lube I have had the same results every time. I get the drying up and stickiness always around 5-10 minutes of use, even if I am not thrusting all that much.

For my plugs it isn't as bad as I don't really thrust or move my plugs around all that much but it still gets sticky and uncomfortable around 10-15 minutes. So depending on how long you plan to keep your plug in this might work just fine for you. But honestly, there are better options out there.

My guy found the bottle ugly but he found the product easy to dispense. I didn't show him the box because he would probably have freaked out or reacted negatively if he would have seen Mia Isabella seductively holding her erect penis. My guy often calls his friends she-males jokingly and a woman with a penis is out of his normal range, so I preferred to not get his input on the box.

We both initially enjoyed the sensation of the lube which almost felt natural but I don't think I will be using this very often. I might use it as a lube to put on a starting plug an then use better lube for the next plug I plan on inserting.