Wet International Ecstasy xtra cooling lubricant - Lubricant from Wet International

Product Details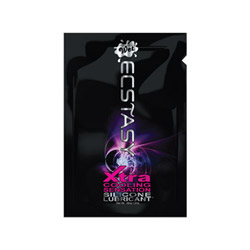 Summary:
Wet Ecstasy's extra cooling sensation lube takes you for a ride on the wild side. With intense cooling action that will last a long time, it's not for the faint of heart. On the other hand, for those folks looking to spice up their lives with a little temperature play, and for those folks who want a thinner silicone based-lube that still lasts, you've come to the right place.
Pros:
Long lasting, cooling.
Cons:
Could be too intense for some, not a great bottle.
Best use:
Wet Ecstasy silicone lube with extra cooling sensation is exactly what it sounds like: a silicone based lube that has ingredients like menthol that make your bits tingle. If you think about the science, this lube has similar ingredients to the ones that are in cough drops, that make your breath feel really cold when you breathe in. Except it's not your breath feeling cold here, it's your clit/dick/whatever.

When they say extra cooling, they mean it. This is the most intense cooling lube I've used (substantially more intense than the KY tingling lube, which I had tried before). What I mean to say is that this lube is great if you want really intense tingling, but probably not for the faint of heart.

In addition, because this is silicone lube, you'll want to use a condom if you're going to put it on any silicone toys. That's because the silicone in the lube isn't good for the silicone in the toy (for a fun science experiment, with an old medical grade silicone toy, try leaving it in a tub of silicone lube for a few weeks and watch the destruction).

On the other hand, silicone based lube is great for use in the shower or tub. It's water resistant, which means that you won't wash it off just because you get wet. So lube up, get wet, and have some fun!
Texture / Consistency / Thickness / Viscosity:

This extra cooling lube was considerably thinner than I expected, given that it's silicone based. This means that you'll need a fair bit (roughly similar to what you'd use with water based lube initially, though you'll have to reapply less often) to get the job done. It comes out of the bottle easily, and feels mildly greasy, though again, not as thick as most silicone lubes. On the other hand, because the cooling is so intense and takes a minute to kick in, I'd experiment and build up the amount you use slowly.

Base:

Silicone

Ingredients:

Dimethicone, Cyclopentasiloxane, Dimethiconol, Phenyl Trimethicone, Mentha Piperita (Peppermint) Extract, Muira Puama Extract, Ginger Root Extract, Passion Flower Extract, Gingko Biloba Extract, (Mexican) Damiana Leaf Extract, Tocopheryl Acetate, C12-15 Alkyl Benzoate / Finsolv TN, Isohexadecane, Caprylic/Capric Triglyceride, Vitis Vinifera (Grape Seed Extract), Phenylethylamine.

Taste / Aroma:

The lube smells like menthol, which makes sense, since it's a cooling lube. That didn't bother me, though it did remind me a bit of cough drops.

Performance:

The lube lasted a fair bit, though I wasn't actually thrilled by that. The truth is that, given that this is a cooling lube, I only wanted it on during the time that I was actually jerking off. I finished and was still feeling the tingles for the next 10 minutes or so. Because it's a silicone based lube, it'll really only come off with soap and water, not just by wiping (the way you can get water based lube off, often). So plan to either use it for a long time, have some extra post-orgasm tingles, or hop in the shower.

Safety features:

Glycerin free / L-Arginine free / Paraben free / Petro-chemicals free

Special features:

Cooling
Moisturizer
Tingling sensation

Packaging:

The bottle is simple and intuitive. It has a flip top and is squeezed through a hole in the top. This isn't perfect for when you want to reapply and your hand is already greasy, but it's also not too difficult.

Special Features:

Cooling! As I spoke about above, this is a particularly intense cooling lube. Get ready for the tingling!