Dr. Love lubricants Get maxxx - Lubricant from Dr. Love lubricants

Product Details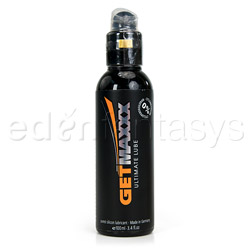 Summary:
Get Maxxx is a thin, long-lasting silicone lubricant that's free of cyclomethicone and cyclopentasiloxane. It does a good job for masturbation, toys, and vaginal intercourse (not ideal for anal), and its hypoallergenic nature makes it a good choice for people with chemical sensitivity. It comes in a very convenient leak-resistant pump-bottle.
Pros:
Long lasting, completely hypoallergenic, convenient bottle, lubricates without reducing sensation.
Cons:
Too thin for most anal play. Cleanup can be difficult.
Best use:
Get Maxxx works well for a variety of situations. It's good for hand masturbation (both for women and men, and great for long sessions) and lubrication during vaginal intercourse or vulvar/vaginal use of toys, or even for a long massage (either erotic or not). The thin consistency of Get Maxxx makes it less effective for anal use, though.
Texture / Consistency / Thickness / Viscosity:

Get Maxx is a thin lubricant, comparable with the "natural feel" type lubes, so you have to be careful so it doesn't run off. In use it does a great job of reducing friction without reducing sensation, feeling more like satin between your fingers than oil.

Base:

Silicone

Ingredients:

Dimethicone, Dimethiconol

Taste / Aroma:

Get Maxxx is completely tasteless, and has only the slightest of scents reminiscent of alcohol - but that was only noticeable when I stuck my nose in the bottle. During use it's completely odorless.

Performance:

Get Maxx performs admirably in both tests and real-life use. It's a rather thin lubricant, but clings well to body parts and toys and provides excellent long-term lubrication. I did not have to reapply during testing.

Since it is thin, anal use is best with smooth toys, as highly textured anal toys generally benefit from thicker lubes.

Get Maxxx did not permanently bond with any of my tested silicone toys (Tantus and Fun Factory), but it did have a temporary reaction with some of the silicone resulting in a visible swelling that went away after a day. It also seemed to lubricate better when used on non-silicone toys (glass and plastic tested) and on condom-covered silicone toys.

Safety features:

Glycerin free / Hypoallergenic / L-Arginine free / Paraben free / Petro-chemicals free

Packaging:

Get Maxxx ships in a easy to hold bottle with a pump top sized for silicone lubricants so you don't get too much. The Get Maxx pump does an admirable job of not allowing the lubricant to leak out, even when the bottle is squeezed. To prevent unintentional squirts, the top can be locked by twisting (and you don't need to remember to do it after pressing down - it locks in the up position), and if that wasn't enough it comes with a top that covers the pump to keep the lube from getting on anything nearby.

Special Features:

Get Maxx is free of cyclomethicone and cyclopentasiloxane. This results in a product that does not evaporate (cyclomethicone slowly evaporates), and has a high flash point (cyclomethicone's flash point is 170F). There also may be some questions regarding the safety of cyclomethicone and cyclopentasiloxane, and while the 1991 study indicated safety, Get Maxxx is free of either compound.

Personal comments:

I put some in my mouth during testing, and apart from an odd mouth feel, I had no adverse reactions, and was left with the pleasant side-effect of soft lips for quite a while afterward. If you can't find the lip balm, Get Maxx is a fine (possibly even superior) substitute. Alas, it doesn't have any sunblock, so if you use it as a lip balm you should probably exercise caution with sun exposure.

As a lubricant Get Maxx works very well. It is slick and long lasting - both desirable qualities in a lubricant. On top of that it's about as body-neutral as you can get. Unfortunately, Get Maxx shares the downside of silicone lubes: difficult cleanup. Expect to spend varying amounts of time in the bathroom with soap and water (especially if you get it on cloth), or use condoms. Cleanup off of your skin isn't too hard, though - a wipe followed by a shower will get most of it off, and the rest will help keep your skin soft.