Empowered Products Gun oil - Lubricant from Empowered Products

Product Details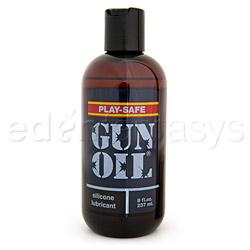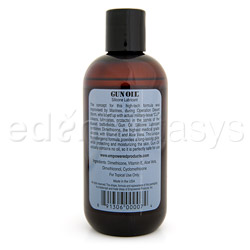 Summary:
If you're a fan of silicone lube and you are looking for quality and longevity at a good price, this is a great choice for you. A little goes a long way, and provides a nice silky slip to your play. Perfect for handjobs / jerking off and anal penetration. Clean up requires soap and water. Although the bottle is masculine and designed for function over aesthetics, the 8 ounces inside are bound to last you a long time.
Pros:
Long lasting, feels good, 8oz. bottle will likely last a long time.
Cons:
Consistency is very runny.
Best use:
This is a silicone based lube; because it will not be compatible with silicone toys, I find the best suggested uses for it are jerking off and anal sex. You could also use this with wood, glass, or metal toys. It would be especially good if using for anal play with toys made of those non-porous materials.
Texture / Consistency / Thickness / Viscosity:

First and foremost, I'll get the bad news out of the way: this lube is very thin and runny. For some people, that might be great; and for other people that would be a total mess. The good news is that is incredibly long lasting and really slippery. It has a really nice feel, actually. The feeling is very silky. To put it plainly, it's kind of like baby oil without that horrible smell.

Base:

Silicone

Ingredients:

Dimethicone, Vitamin E, Aloe vera, Dimethiconol, Cyclomethicone.

Color:

Clear

Taste / Aroma:

I would not suggest using this lube prior to any oral play, it's probably not a good idea to get a mouth full of silicone lube. That being said, this lube has absolutely no smell.

Performance:

One moderate application of this lube lasted for more than fifteen minutes without any need for re-application. It is very long lasting. I think this is due to the lube not really absorbing into your skin, so the surface stays coated. I think it works exceptionally well, a little goes a long way.

As far as clean up, you cannot just rinse this off with water - you are going to need to use soap! It doesn't leave a residue after washing with soap and water.

Safety features:

Hypoallergenic

Packaging:

Like most lubes, this just came in its bottle as is. The bottle is a dark amber plastic with a black flip-top cap. It had a foil seal inside that had to be removed, to prevent leakage during shipping. When the cap is closed, the bottle does not leak. It says Gun Oil very prominently on the bottle, so it is only somewhat discreet. The back of the bottle has a statement about the concept of the lube as well as a list of the ingredients.

Special Features:

The concept for this lube claims to be derived from an improvised formula used by the Marines during Operation Desert Storm. Made in the USA.

Personal comments:

This is an 8oz. bottle and it doesn't take much during each use. For that reason alone, I think this is an incredibly economical choice. Having read the history of how the product was conceptualized, it'd probably make a damn good gift for anyone enlisted.

Experience:

I made a funny little comic strip for this lube on my blog if you want to check it out. :)