Westridge Laboratories Hero super slick - Lubricant from Westridge Laboratories

Product Details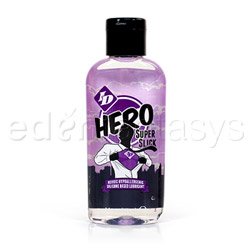 Summary:
Looking for "super" lube? Hero lubricant is long lasting, great for anal sex, and easy to clean up! It's a silicone based lube that will have you feeling like Wonder Woman or Superman every time you use it. It's hypoallergenic as well, so if you have sensitive skin this lube might work for you.
Pros:
Silicone based, thick, slick, great for anal, long lasting.
Best use:
This is a silicone based lube, so it's perfect for anal or shower sex. However, you can't use this with all of your toys. Silicone lube shouldn't be used on silicone toys or on toys made from UR3, just to name a couple. It does say it's latex compatible though, so you can use it with condoms.

The reason silicone lube is great for shower sex is because it doesn't absorb into the skin like a water-based lube would. It has to be washed off with soap and water.

This is the same reason I say it's good for anal. You really need it lubricated down there, so with this lube you don't have to worry about stopping to re-lubricate multiple times during sex. It can also be used vaginally.

This lube is labeled as hypoallergenic, so anyone who's had problems with other lube may be able to use this. It's also glycerin free.
Texture / Consistency / Thickness / Viscosity:

This is very thick lube. I would compare the thickness to slightly watered down body wash. It takes it a couple of seconds to drip out of the bottle. Once it starts to drip, it comes out in a nice even flow that doesn't cause any messes. You just have to give the bottle one gentle squeeze.

The lube is a little sticky. Certainly not the stickiest I've experienced, but it has a little bit of a sticky feeling. It's not greasy or anything, though, and once you wash it off there's no lingering feeling of the lube.

It's very slick, too. Once you're using this, everything slides around perfectly. There's no drag or anything to worry about.

It stays in place really well until you spread it around. You can roll over or twist while this lube is on you, and it isn't going to waterfall all over the place. You still want to make your adjustments quickly though, because it's still going to drip a little bit.

It doesn't absorb into your skin at all, so you'll have to wash this off with soap and water. Otherwise you'll have lube on you all day long.

It's a little hard to see, but here's the lube puddle...


Base:

Silicone

Ingredients:

Cyclopentasiloxane, Dimethicone, and Dimethiconol

Color:

Clear

Taste / Aroma:

This lube has no taste or aroma. My husband and I sniffed the bottle, and neither of us could smell anything. I tasted it as well, and could only taste my finger that I licked the lube off of and a slight tingling feeling.

Performance:

This lube worked really well for me. I've been practicing more for anal, and this really helped. Water-based lube just seems too watery and absorbent to be used for long periods of time, or for anal. Since this is so thick and slick, it worked really well.

To wash it off, I just took a shower and cleaned it off with soap and water. I didn't have any problems with it at all.

So far, I haven't found that it stains anything, but we have only dripped it on a blanket once on accident. The blanket didn't have any unsightly marks that I noticed.

I wouldn't say this feels natural or anything, because it's much too thick to feel like natural wetness. It is long lasting, though, so if you hate having to reapply often, this would be perfect.

Safety features:

Glycerin free / Hypoallergenic / L-Arginine free / Paraben free

Special features:

Packaging:

The lube comes in a bottle that is about 3-4 inches tall. It has a snap top that doesn't leak that I've noticed.

The front shows the logo "ID HERO Super Slick" in a large purple circle, with a faceless man in a business suit ripping it off to show the ID logo, much like Superman. The back sticker shows from the front of the bottle and has a picture of a city's silhouette with clouds around it.



The back just shows a couple of speech bubbles with things like "Hypoallergenic" and "Silicone based" in them. Then it has a list of ingredients, a warning about being careful when using it on smooth surfaces so you don't fall, and a note about it not being a contraceptive.



Volume:

4.4 fl.oz

Weight:

0.4 lb

Special Features:

Really, its only special feature is being hypoallergenic. It's also glycerin free.