System JO JO for women premium lubricant - Lubricant from System JO

Product Details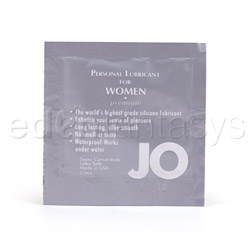 Summary:
JO is for women who want a quality lube without all the bells and whistles. Made without fragrance or dies, this lube is perfect for sensitive skin. Enhance your lovemaking and masturbation by adding JO to the mix. It'll keep going when mixed with your own juices for hours of pleasure.
Pros:
Long lasting, no frills
Cons:
Dispenses tiny amount
Best use:
System JO Premium Women Lubricant is perfect for the lady parts. Combined with your own natural juices, this lube lasts and lasts. Like some other JO women products, reapplication is necessary when used on men. For some reason, this lube is formulated to revitalize itself when exposed to a woman's nectar. Use for masturbation or intercourse. This lube is silicone based so make sure you don't combine it with other silicone products. This will cause a breakdown in material. As always, check with Eden's product pages before you use this lube with your toys, just to make sure it's safe.

The ingredients include: Cyclopentasiloxane, Cyclotetrasiloxane, Dimethiconol, and Dimethicone

This product is L-Arginine free,petro-chemicals free and paraben free, making it gentle.

As with all JO products, if irritation occurs, discontinue use. In addition, clean up spills right after they happen. Although the lube is clear and will not stain fabrics it is extremely slippery and could lead to falls. Finally, keep out of the reach of children and pets and never ingest.
Texture / Consistency / Thickness / Viscosity:

This lube is perhaps the thinnest of the JO line. Even so, it stays where it's put but may drip just a bit if not manipulated. On the skin, it feels silky smooth and wonderful.

To dispense, simply press down on the plunger to receive a tiny amount of lube. You will need to press down around eight times to receive enough lube for one session.

To clean simply wash off with warm soapy water and rinse.

Base:

Silicone

Ingredients:

Cyclopentasiloxane, Cyclotetrasiloxane, Dimethiconol, Dimethicone

Color:

Clear

Taste / Aroma:

JO has a very flat taste and is odorless. Therefor, it's a good choice for people who are sensitive to perfumes and added flavors.

Performance:

JO is a wonderful choice for women. Because it is activated by a woman's own juices, it's a wonderful choice for lesbian couples. When applied to the genitals it goes on smooth but may drip just a bit if not rubbed around. Once there, it stays in place and does it's job by reducing friction without all the frills of heat, tingling, tastes, and smells. Once finished, wash off. It's just a simple lube which is simple to use.

Safety features:

L-Arginine free / Paraben free / Petro-chemicals free

Special features:

Packaging:

JO comes in a clear, 4 fl oz pump bottle adorned in smokey white and light pink. The back of the bottle contains information regarding the lube, instructions for use, and precautions. In addition, the company confirms that the product is fragrance free and also latex friendly so break out those condoms.

Special Features:

The lube doubles as a vaginal moisturizer. When used, it sinks into the skin, leaving the area silky soft and smooth.