Pipedream Moist silicone lubricant - Lubricant from Pipedream

Moist silicone lubricant videos
Product Details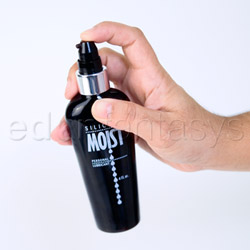 Summary:
A no-frills silicone lubricant that is truly made to enhance your intimate and sexual pleasure. Even with a small amount, it will last as long as you need it to, and you can have full confidence in its odorless, tasteless nature and amazing performance. Although it may not be the best for anal use, it is perfect for just about anything else you can throw at it.
Pros:
Very long-lasting. Absorbs nicely into skin. No smell. No taste. Non-Staining.
Cons:
Not compatible with silicone toys. Very runny consistency.
Best use:
Silicone Moist is a personal lubricant brought to you by Pipedream Products. It labels itself as a friction-free personal lubricant, but it is so much more than that. This is an odorless, tasteless, hypoallergenic, non-staining wonder of a lubricant. It will last as long as you need it to, and then some.

This is the perfect lubricant for masturbation, so long as you are not using any silicone products along with it. It will excel with glass, wood or metal toys. Also, because it is silicone, it's what you want to go to first for a romp in the pool, shower or bath.
Texture / Consistency / Thickness / Viscosity:

Except for the heightened sensations you're sure to feel, you will hardly know this lube is there once it is applied. It truly enhances and works with your body's own lubricant. When applied to the skin, it will form a micro-thin layer of silicone that absorbs very well, but doesn't lose its water-resistant barrier. Even after allowing it to fully absorb into the skin on the back of my hand, once any moisture was applied to that area, it lasted far longer than the non-lubricated skin around it.

However, this lube is extremely thin. While this isn't so much a problem with a partner, if you are trying to apply it to a specific area of the body during solo masturbation, you've got but a few seconds to do it. So it might get messy, but that's where the non-staining benefits really kick in. As the tag says, "Use it with complete confidence."

It does not leave a glossy sheen on the body, but almost acts like a moisturizer, simply leaving the skin softer and smoother. It could be great for some light massage, as it does provide more slip, but it's true talents are improving upon the moisture that you already have.

Base:

Silicone

Ingredients:

Dimethicone,Cyclopenta-siloxane,Tocopheryl Acetate (Vitamin E Acetate).

Color:

Clear

Taste / Aroma:

Despite any doubts you may have, this is truly a colorless, odorless, tasteless lubricant. This may be why it was voted Women's Health Magazine's No. 1 lubricant, as it allows for oral play, there's no concern about funny smells, and you don't have to worry about any stains.

Performance:

Silicone Moist will last as long as you need or want it to, and then some. The micro-thin barrier it creates lasts surprisingly long, you will forget it's there. If you don't, well, it washes off easily with mild soap and water. A little definitely goes a long way with silicone lubricants, and this is no exception. The 4-ounce bottle may seem small, but it will give you many happy uses.

Safety features:

Hypoallergenic

Special features:

Packaging:

Silicone Moist comes in very simple packaging, a black, plastic bottle with a pump top. The only words on the bottle are "Silicone Moist Personal Lubricant 4 fl. oz." and there is no writing on the back of the bottle. A fairly discreet package, if you ask me.

The included tag reads, "This crystal clear, non irritating, friction free lubricant is perfect for all of your intimate sexual encounters. Use it with someone you love or try it for a delightful solo experience. Use it liberally when slippery smooth moisture is needed, to enhance sexual pleasure. Silicone Moist will not stain and is easily removed with mild soap and water. Use it with complete confidence."

Volume:

4 fl.oz.

Weight:

5.2 oz