Oceanus Naturals Carrageenan all natural - Lubricant from Oceanus Naturals

Product Details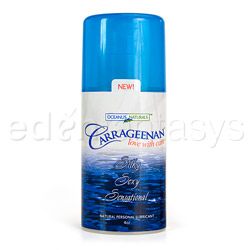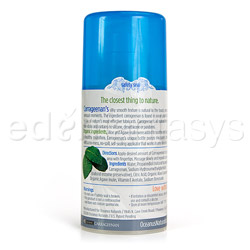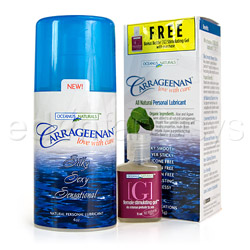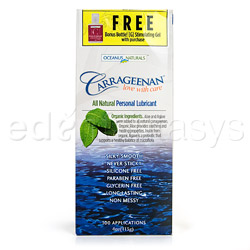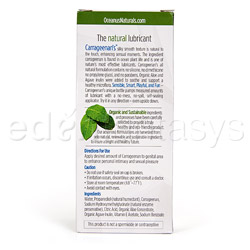 Summary:
This slick, never sticky lube is odorless and tasteless and features gentle and natural ingredients. Anybody with sensitive skin or a general desire to limit contact with harsh chemicals will appreciate this lube.
Pros:
pump dispenser, texture, suitable for sensitive skin
Best use:
This is a fantastic all-purpose lube suitable for use on pretty much any material, including silicone, as it is a water-based lube. My lover and I have each experienced unexpected sensitivity and irritation to other lubes, especially those that have strong chemical smells. A chemical smell is always a dead give-away. This one has a pleasantly neutral (non)smell. This lube features natural and organic ingredients.
Texture / Consistency / Thickness / Viscosity:

I love the texture of this lube as it's smooth, never sticky, and pretty similar to slickness of naturally-produced lube. I don't feel the need to use different lubes for anal, but some people swear by it. I haven't used it for anal, but I definitely would because I think it would do the job.

Base:

Water

Ingredients:

Water, Propanediol (natural humectant), Carrageenan, Sodium hydroxymethylglycinate (natural enzyme preservative), Citric acid, Organic aloe concentrate, Organic Agave inulin, Vitamin E acetate, Sodium benzoate.

Color:

Clear

Taste / Aroma:

It's pretty much odorless and flavorless. Other glycerin-free lubes claiming to be suitable for sensitive skin have irritated me and my lover when we use a large amount. I've tried have a chemical smell and often a strong, bitter and chemical taste.

Performance:

The product lasts rather well without getting sticky. It doesn't leave any residue on your hands and claims to be non-staining. I didn't smear it all over my sheets or anything to test it, but I got enough on my shirt to believe that it's pretty much non-staining--although I certainly wouldn't get any type of lube on any delicate fabrics.

Safety features:

Glycerin free / Paraben free

Special features:

Packaging:

The lube is dispensed from a pump, which helps control the amount that comes out. With squeeze bottles, I often get an unexpected, hard-to-control amount.

Volume:

4 fl.oz.

Weight:

0.4 lb

Special Features:

The lube comes with a small sample bottle of their stimulating gel--you can see it in the pictures--that I found to be quite pleasant. I used it on my clit and nipples, and it wasn't overpowering. It has a nice minty smell and also features more natural than chemical ingredients. It heightened the stimulation I was receiving, which is what it's supposed to do. I've shied away from putting such gels and potions on my privates, but my lover and I both felt comfortable using this because it smelled more like genuine peppermint than a lab-created scent. Sure enough, it's made with essential oils.