Oceanus Naturals Carrageenan all natural warming - Lubricant from Oceanus Naturals

Product Details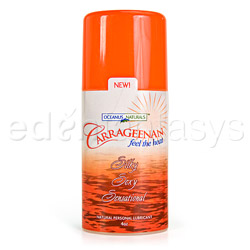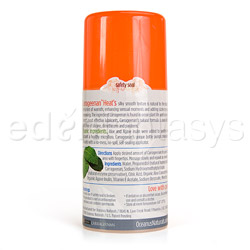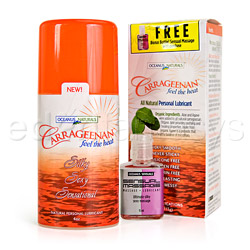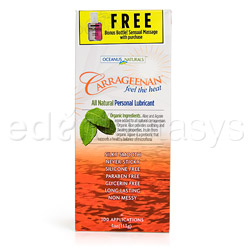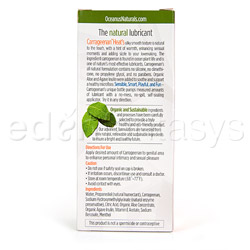 Summary:
This is a lightweight water-based lubricant that has terrific staying power, but only a very mild warming effect for users who don't like things to feel too intense.
Pros:
Lasts a long time. Very slippery. Easy to wash off.
Cons:
Not much of a warming effect.
Best use:
Carrageenan Warming lubricant is ideal for vaginal sex, and because it is water-based it's safe for use with any sex toy materials, including silicone. It can also be used for anal sex if a thinner lube is to your liking.

Carrageenan is pH balanced, contains no glycerins or parabens, and uses all natural ingredients to appeal to users who don't like to have a bunch of chemical nasties in their lubes.
Texture / Consistency / Thickness / Viscosity:

This lube is lightweight with a consistency similar to a thin vegetable oil, though it is not greasy feeling in any way. It's incredibly slippery and will run if you apply a squirt in one spot and don't rub it around immediately.

Base:

Water

Ingredients:

Water, Propanediol (natural humectant), Carrageenan, Sodium hydroxymethylglycinate (natural enzyme preservative), Citric acid, Organic aloe concentrate, Organic Agave inulin, Vitamin E acetate, Sodium benzoate, Menthol.

Color:

Clear

Taste / Aroma:

When it comes to smell and taste, Carrageenan Warming is a rather inconspicuous lube. There is an extremely faint minty aroma that is only noticeable if you put it right up to your nose, and a mild minty taste that doesn't linger for very long.

Performance:

One of the neat things about this lubricant is the unique round-topped pump bottle that dispenses the perfect amount to slick up any toy or genital area with one squirt, without clogging or dripping. This means you can toss the container on the bed and not worry about it making a mess, and it's right there when you need more.

But you might not need to grab for that bottle very often, because a little of this lube goes a long way. We tested a single squirt on a forearm, and rubbed in a circular motion for several minutes and the lube was still slick. It got only mildly sticky when it finally did begin to dry, and a mist of water from a spray bottle re-activated the lube so it lasted almost as long as it originally did.

As for the warming qualities, it's mild enough that some users may not even notice it, particularly on external areas of skin. If you do feel it, you'll first notice a cooling sensation, and then with just a little friction it turns to a gentle warmth that would be suitable for even the most sensitive users.

This is the kind of lube that you don't feel the need to wash off immediately after sex, but when you do get around to it Carrageenan rinses of very easily without soap. It doesn't leave any kind of residue on toys either.

Safety features:

Glycerin free / Paraben free

Special features:

All natural
Moisturizer
Warming

Packaging:

The Carrageenan Warming lube bottle comes packaged in a box that is discreet enough that it could be mistaken for cough syrup, and includes a product info pamphlet and a mini catalog of their products inside. The lube bottle itself has the nifty round-top dispenser we mentioned before, and a lid that snaps on securely over it for travel.

This lube also comes with a trial-sized bottle of their Sensual Massage lubricant, which is just a silicone-based lube containing Cyclopentasiloxane, Dimethiconol, and Dimethicone. It's thinner than most sex lubes though, making it more appropriate for massage, but it does require soap and water to remove from the skin.

Volume:

4 fl.oz.

Weight:

0.4 lb

Experience:

Michele says:
I felt a mild little warming sensation when using this lube vaginally but not really any difference when I put it on my nipples or on my clit for some toy play, so it pretty much bombs for me as a 'warming' lube. As a lube in general though, it worked great. However, the one negative thing I experienced is that it turned my skin very red for a few hours wherever it was applied. It didn't itch or burn, but the redness concerned me enough that I think we'll stick with the lube we have.

Alan says:
This is an outstanding lube in terms of staying power, but the "warming" effect wasn't really all that noticeable for me. It just felt like normal friction heat during sex and a hand job. Then afterward it was maybe a bit tingly or something, but not much different than if we'd just had a super long session. It wasn't warm in the least bit when applied to my balls (sort of opposite actually) or any other area. As a lube all on its own I'd give this five stars, but since it's supposed to be a warming lube and lacks quite a bit in that arena, we'll have to give it three.